Wow. Another week has gone by without more than a weekly update. What can I say? It's been a pretty busy summer.
I admit that I hate taking more than a few days break from writing, because I find that my creative juices start to slow down. Not that I don't have a lot to say — G*d knows I always got the "Talks Too Much" comment on my grade school report cards — I just find myself struggling to write these thoughts down.
Anyway … what have I been up to?
Well, El Hubs & I were "home" in Detroit early last week. In reality, it's because we knew we had to travel to Toronto on Thursday for his cousin's wedding on Friday. And yeah … we coulda done the 9 hr trip in one shot. But why do that when we can break the car ride up in two days? Besides, we figured we'd do some house-cleaning while we were in town for a couple of days.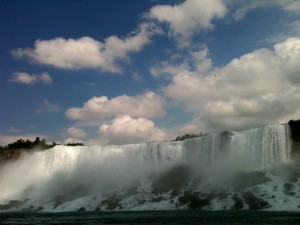 Thursday afternoon, we pulled into the Greater Toronto Area and swiftly met up with my cousins for some serious catching up. One of these cousins was LJC, whom we haven't properly spent time with since her wedding in 2008. Her youngest sister was also there and we had the pleasure of finally meeting her Significant Other.
It was an evening full of incredible fun of just sitting and talking … something I sorely miss from the years of spending endless summers with them chatting until late at night.
Friday was obviously Hubby's cousin's wedding. And it was an amazing time … perhaps Hot as Hades in mid-July, but so much fun! The best part of the reception … at least in my mind … was getting on the dance floor with all of Hubby's cousins/significant others and their children (our 14 yo nephew included) to start off the night of dancing with the Black Eyed Peas' "Tonight's Gonna Be A Good Night."
While the wedding reception was an incredible party, I must say that getting together with Hubby's entire family (well, most of them anyway) on Saturday was also wonderful. Because even though we spent time together the day before at the wedding, Saturday's get-together was more laid-back and relaxed. I know Hubby & I had a wonderful time … especially teaching them Canadian cousins how to play the very Michigan card game of Euchre. We think we may have created monsters. LOL!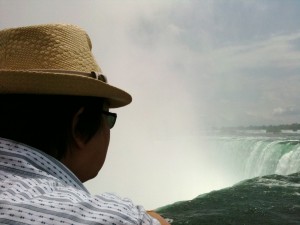 And today? Well … today Hubby & I found ourselves celebrating HIS birthday in Niagara Falls. I must say, I can't think of any better way to celebrate Hubby's birthday than with an entire gaggle of family. Just imagine a group of 25 family members (including an Aunt & Uncle who came from the Philippines for the wedding) doing an entire bus tour of attractions. It was completely chaotic … but I know Hubby has been enjoying himself today.
Even if I did forget to wish him a Happy Birthday until another Aunt had said it to him this morning. Bad bad bad wife!! **
Now, I'm laying here in bed at the hotel, finishing up the last minutes of Hubby's birthday by writing nothing more than a journal entry for the past week.
Hubby, however, is spending the rest of his birthday night out with the "boys." And by "boys" I mean two of his cousins, two of his uncles, and his Dad. I'm glad Hubby's getting a chance to spend time with them … especially since we haven't had many opportunities to get together with family (from all over the U.S and Canada) over the past few years.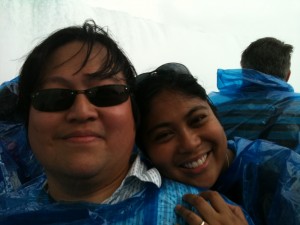 So Hubby … before the day's over, I just want to send an incredibly huge birthday hug and kiss to you. You are my world; my sunshine and rainbow. You are my best friend … and I'm incredibly blessed to have you in my life. I can't wait to continue our journey in life together.
Oh … and one more thing. Not that this is incredibly exciting news (in the grand scheme of this post anyway). But check out the title of this post.
Yep … that's the number of blog entries I've officially written as of today. Wow!
~~*~*~*~*~*~*~*~*~*~*~~
** In my defense, I must add that I did remember it in the shower this morning. But since we were trying to pack for an overnight stay in Niagara with his family, it slipped my mind by the time I started pack things away! Bad bad wife!!