Hubby & I have spent the past week in Canada. While the main reason was to celebrate his cousin's wedding in Toronto last Friday, we spent the past week touring Eastern Ontario and Québec. And actually, as I type this … we're on a three-hour tour bus drive from Kingston back to Toronto, where we first started this bus tour.
The main purpose of doing these tours is because Hubby's Uncle and Aunt have flown in from the Philippines to attend the wedding. Since they've flown halfway around the world, Hubby's parents as well as the other family members living in North America have decided to have a "mini"-reunion to show Hubby's Uncle a small chunk of Canada.
And when I say "mini" … I mean that it's a smaller portion of Hubby's entire family. During the actual wedding weekend, the total number of family members (including aunts/uncles, cousins, children of cousins, and all significant others) equaled 37. When we went to Niagara Falls on Monday, about 25 of those family members were still around for an overnight stay. And when we started the three-day bus tour on Wednesday, we whittled down to 17. Regardless, it has been an incredible week with the family … something that we haven't done since January 2008. And unfortunately, that happened to be in Virginia Beach when Hubby's grandmother passed away.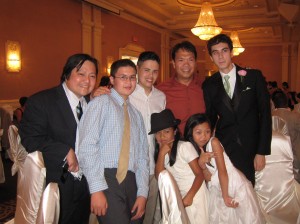 In that two-year time period, four new children were added to the family. One was our niece, Kairi and the subsequent three babies were girls born between 2009 and early 2010. In addition, Hubby has much-younger cousins between the ages of thirteen and eight. The other young kids are children from his sister (Tyler) and his first cousins. This puts the total of "young kids" fourteen years old and younger at twelve.
That's twelve kids being watched over by parents; twelve kids being beckoned by the various parents and their "Tita" or "Tito"** or "Até" or "Kuya."*** Twelve kids all calling out "Mom" or "Dad" and approximately seven sets of parents responding to that title.
That's about eleven of Hubby's Aunts / Uncles / First Cousins out of the 37 family members that have young kids under the age of eighteen.  If my math is right, this also means that about twelve of those 37 family members are either parents of older kids (eighteen or older).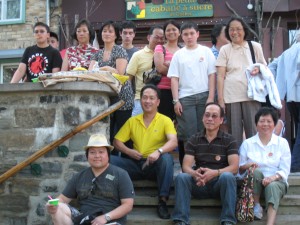 Then there's Hubby & me; the childless couple. We're not counted amongst those who have children at any age. We're only counted as children of Hubby's parents. And we only get the title of "Tita/Tito" or "Até/Kuya."
But we're definitely not called "Mom" or "Pa" (which is what Hubby's family calls their Dads).
Now, I know what you're thinking … here goes Emily, once again, complaining about not being a Mother; of not being able to experience what its' like to be called "Mom" or "Mommy." And yes, I do admit that it has been bittersweet this past week when seeing all the babies dressed up for the wedding; when seeing all the other Aunts and Uncles and Cousins passing the new additions to the family around the group, oohing and ahhing and fussing over them. (Although, I do fully admit I took part in such activity … )
But you know what? I actually found the silver lining in all the hullabaloo of the "World of Babies/Children." And that silver lining is this: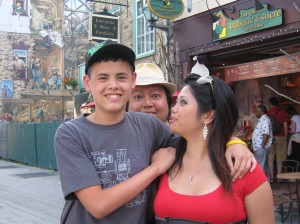 I was actually ecstatic that I didn't have to respond to being called "Mom" … especially when it was in regards to the constant questions from the kids older than four years old about what was going on next.  Or why we had to leave now to go to our next destination. And I certainly didn't mind that I wasn't responsible with having to deal with attitudes or behaviors that the kids doled out once they got grumpy.
While I dealt with each instance that came my way or happened during our "watch" over them****, I have to say that I finally appreciate the fact that I'm "just the Auntie" or "just Até Emily" to all the kids.
In fact, I can honestly say without a doubt that Hubby and I are lucky. And I don't mean "lucky" in the sense that, as a Child-Free couple, we don't have to deal with the day to day issues of being a parent … because, I still wouldn't trade the opportunity to raise a child for anything else in the world.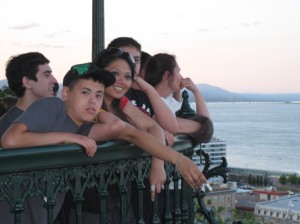 No, I mean "lucky" in the sense that we get to be the "Cool Auntie and Uncle" to the children. We get to take the kids around to do fun things (while hopefully giving the parents a bit of a reprieve) when we want to and/or are able to. And we get to "play" with them and joke around with them as much as we want.
But most importantly, we also get to be the ones who they can talk openly to;  feel comfortable around to ask some difficult or sensitive questions. And we're the ones whose words, at this point in their lives, can make some sort of impact on them; put a different perspective in mind for them … even if they've been told the same things twenty times over by their parents. And it feels great.
I can honestly say that the time we spent with Hubby's youngest family members has been wonderful and truly satisfying. And I hope that during the week we've spent with them, we've been able to contribute to lasting memories and life lessons that they can take back with them to their own homes.
~~*~*~*~*~*~*~*~*~*~*~~
Related Posts
Family Fun in Niagara Falls
The Mr. Apron Strings Family Bubble
Welcoming Kairi to the world
Pregnancy New(s) Edition (PWP)
~~*~*~*~*~*~*~*~*~*~*~~
** Means Aunt or Uncle in Tagalog (the native language of the Philippines)
*** In Tagalog, Até (ah-teh; feminine) or Kuya (koo-yah; masculine) is a title given to show respect to your elder siblings or cousins.
**** And believe me, this week there were lots of times where we voluntarily offered to take responsibility for the kids.