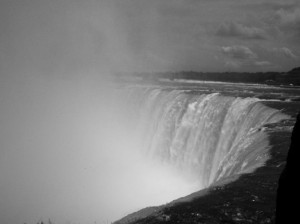 Wow. Another week has gone by with­out more than a weekly update. What can I say? It's been a pretty busy summer.
I admit that I hate tak­ing more than a few days break from writ­ing, because I find that my cre­ative juices start to slow down. Not that I don't have a lot to say — G*d knows I always got the "Talks Too Much" com­ment on my grade school report cards — I just find myself strug­gling to write these thoughts down.
Any­way … what have I been up to?
Well, El Hubs & I were "home" in Detroit early last week. In real­ity, it's because we knew we had to travel to Toronto on Thurs­day for his cousin's wed­ding on Fri­day. And yeah … we coulda done the 9 hr trip in one shot. But why do that when we can break the car ride up in two days? Besides, we fig­ured we'd do some house-​​cleaning while we were in town for a cou­ple of days.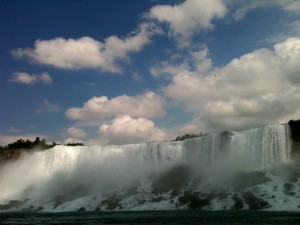 Thurs­day after­noon, we pulled into the Greater Toronto Area and swiftly met up with my cousins for some seri­ous catch­ing up. One of these cousins was LJC, whom we haven't prop­erly spent time with since her wed­ding in 2008. Her youngest sis­ter was also there and we had the plea­sure of finally meet­ing her Sig­nif­i­cant Other.
It was an evening full of incred­i­ble fun of just sit­ting and talk­ing … some­thing I sorely miss from the years of spend­ing end­less sum­mers with them chat­ting until late at night.
Fri­day was obvi­ously Hubby's cousin's wed­ding. And it was an amaz­ing time … per­haps Hot as Hades in mid-​​July, but so much fun! The best part of the recep­tion … at least in my mind … was get­ting on the dance floor with all of Hubby's cousins/​significant oth­ers and their chil­dren (our 14 yo nephew included) to start off the night of danc­ing with the Black Eyed Peas' "Tonight's Gonna Be A Good Night."
While the wed­ding recep­tion was an incred­i­ble party, I must say that get­ting together with Hubby's entire fam­ily (well, most of them any­way) on Sat­ur­day was also won­der­ful. Because even though we spent time together the day before at the wed­ding, Saturday's get-​​together was more laid-​​back and relaxed. I know Hubby & I had a won­der­ful time … espe­cially teach­ing them Cana­dian cousins how to play the very Michi­gan card game of Euchre. We think we may have cre­ated mon­sters. LOL!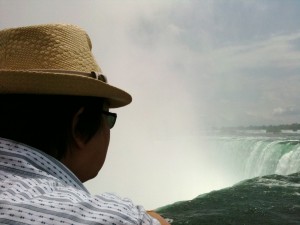 And today? Well … today Hubby & I found our­selves cel­e­brat­ing HIS birth­day in Nia­gara Falls. I must say, I can't think of any bet­ter way to cel­e­brate Hubby's birth­day than with an entire gag­gle of fam­ily. Just imag­ine a group of 25 fam­ily mem­bers (includ­ing an Aunt & Uncle who came from the Philip­pines for the wed­ding) doing an entire bus tour of attrac­tions. It was com­pletely chaotic … but I know Hubby has been enjoy­ing him­self today.
Even if I did for­get to wish him a Happy Birth­day until another Aunt had said it to him this morn­ing. Bad bad bad wife!! **
Now, I'm lay­ing here in bed at the hotel, fin­ish­ing up the last min­utes of Hubby's birth­day by writ­ing noth­ing more than a jour­nal entry for the past week.
Hubby, how­ever, is spend­ing the rest of his birth­day night out with the "boys." And by "boys" I mean two of his cousins, two of his uncles, and his Dad. I'm glad Hubby's get­ting a chance to spend time with them … espe­cially since we haven't had many oppor­tu­ni­ties to get together with fam­ily (from all over the U.S and Canada) over the past few years.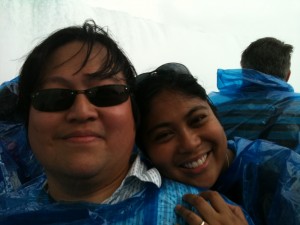 So Hubby … before the day's over, I just want to send an incred­i­bly huge birth­day hug and kiss to you. You are my world; my sun­shine and rain­bow. You are my best friend … and I'm incred­i­bly blessed to have you in my life. I can't wait to con­tinue our jour­ney in life together.
Oh … and one more thing. Not that this is incred­i­bly excit­ing news (in the grand scheme of this post any­way). But check out the title of this post.
Yep … that's the num­ber of blog entries I've offi­cially writ­ten as of today. Wow!
~~*~*~*~*~*~*~*~*~*~*~~
** In my defense, I must add that I did remem­ber it in the shower this morn­ing. But since we were try­ing to pack for an overnight stay in Nia­gara with his fam­ily, it slipped my mind by the time I started pack things away! Bad bad wife!!