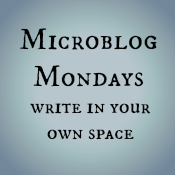 Yes, it's been awhile. But just got done read­ing Mel's post. I've been want­ing to res­ur­rect this blog for quite some time, so I fig­ured this was my best oppor­tu­nity to start.
Here's my first #MicroblogMonday:
Happy Birth­day to Dr. Brother … and thanks for mak­ing me an Aun­tie Em once again!