Thanks AGAIN for everyone's well wishes for my Dad's speedy recovery. I am so incredibly grateful for all the blove (blog love) I've received. I will update you on my Dad's condition in another post, but today I figured I'd blog about something else.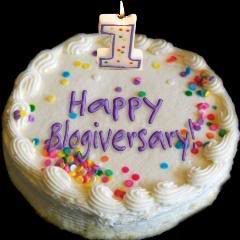 I just got done reading BabyBound's latest post, and it reminded me that a year ago this month is when I started blogging. Okay, so officially it's not until March 17th but … whatever.
Anyhoo … the reason BabyBound's post reminded me of my blogiversary was because she was talking about the reason why she started her blog. And what has transpired (or hasn't transpired) since taking a break from fertility treatments.
For me, the reason I started this blog was to find an outlet to express how frustrated I was with my infertility. At this time last year, I was going through quite a bit of angst and frustration. Shall we recap? Yeah, why not.
Mid-March would be the 3rd anniversary of my one (and only) failed attempt at IVF. Since then, I had not done anything active to pursue further infertility treatments. Nor was I moving forward in any direction towards adoption. It terrified me to move forward (and in some ways, it still does today).
My SIL, who had just gotten remarried less than a year ago at that time, was already 5 months pregnant. And, of course, after trying for well-over 10 years to start our own family, I fell into a deep dark abyss of feeling like shit.
Same SIL found out just two weeks prior that her baby was showing signs of abnormalities (US was indicative of a cleft lip and omphalocele) and of course, I was feeling guilty that I probably caused it by all my horrible feelings of jealousy and anger.
The slimmest of slim possibilities of a quick and painless Philippine adoption was quickly and ceremoniously stripped away. (Come to think of it, I don't think I even blogged about that. Hmmm … maybe a post for another time.)
So yeah … I think I had enough to vent about and just had to find an outlet for it all. And hence, Apron Strings for Emily was born.
A year later, I'm still writing. And I've enjoyed writing. It's given me an opportunity to share and exchange information and emotions with people that I've never met IRL (in real life). And even those IRL people that do read my blog, it's an opportunity for them to read exactly what I'm going through. Because in my real life, I'm not good at showing my real emotions.
And a year later, this is what's going on in relation to the above-mentioned recaps:
So, if you've kept reading to the end of this post … I applaud you. And I thank you. Thanks for being the ears (or in this case, the eyes) that I've needed to get past the most difficult times in my life this past year. I've learned that I am not alone in feeling the way I do. I've learned that others also share the same warmth, compassion and empathy that I have. I've learned that I am a much stronger person that I give myself credit for. I've learned that my husband continues to be and will always be my best friend in the world. And I've learned that blogging is therapeutic for my soul.
Happy Blogiversary to me!!