I've been so busy with work lately that I haven't had time to write a proper post. So instead, I think you guys'll get a nice little pictorial of what me and the furkids have been up to lately.
Besides, I recently got an awesomely new "point n' shoot" camera from Hubby (!!!). And I like to take pictures. Lots of pictures. Especially since we now live in the digital age.
(But yet … sometimes I miss the old 35 mm cameras … )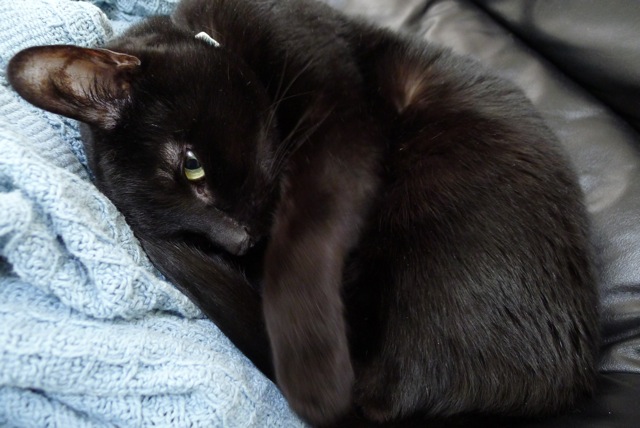 Except for the silly pictures Hubby & I first took of ourselves in pajamas, Yami was our first subject matter. Of course, here she is being all camera-shy!
But it didn't take her too long until she enjoyed hamming it up.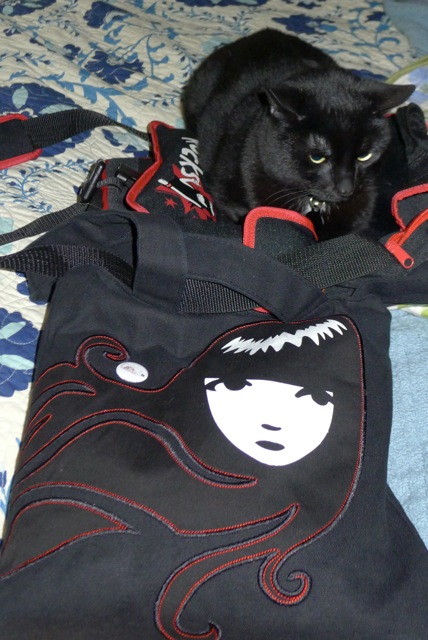 I mean really, Yami … my Emily Strange bag? I know you like to think of yourself as one of her Strange Posse … but you're really part of this Emily's Posse.
Okay, I forgive you. Only because you think I rock … \m/
 But what about your sister? What has she been up to?
That's right. Kozzy's been sleeping. LOTS. Especially on the floor next to me while I work.
(Can I just mention how much I love that my furbabies surround me while I work at home?)
I did eventually take our Kozzy out on a car ride. Check out where we went.
Oh yes, my Kozzy-girl took a trip with me to visit her Grandpa. And we brought him some flowers  …
Thank goodness I was able to keep her from leaving any other "gifts" on Dad's newly-sodded patch of grass!
And now I'm off to a week-long trip to Vegas with Mom. Unfortunately, it'll be a working "vacation" for me, as I still don't have enough vacation time accrued at work. I'm hoping that I'll be able to spend some of my down time writing. Because I do miss it. Writing, that is.
And I obviously need the practice. Hmm … Maybe I'll do NaBloPoMo for June.
But for now, this is all I got. Hope y'all are healthy and happy!