Wow. It's bee-yooo-teee-ful outside here in Chicago. It's a nice 68 degrees outside and sunny. But the best part is that tomorrow it's supposed to reach the low 70's!
Unfortunately, I'll be stuck behind my desk at work for most of the day. Boo.
At least I was able to enjoy today; as I worked from home. How enjoyable is it to be able to take a mid-morning break to walk our doggie? And I just love not having to wake up any earlier to get ready for work on these days, when all  I have to do is roll out of bed, stumble to my trusty laptop and sign into the office. Oh how I wish I could do this more than once a month!
Today being the Wednesday before the Easter, I've noticed a lot more students out and about enjoying the nice weather. Which makes me believe that these kids are all on some sort of Spring break or semester break of sorts.
Jealous!!
Makes me wish I could be back at school just so I can have those extra days off. And it's not just because you automatically get those days off … it's more that when you're off at that time, your entire "business as usual" routine stops. There's no other person that you're responsible for when you're off. There's no other person relying on you to make sure things are in order for him/her when you're gone for the week. And most of all, there's no pile of work waiting for you when you return from that time off.
Now, scheduling a vacation … even just between Hubby & I is a pain in the neck. After all, last time we went away (to Vegas, baby) … and even though people knew we would be gone, chaos still ensued which ultimately ended up with Hubby having to deal with work-related things. While on vacation.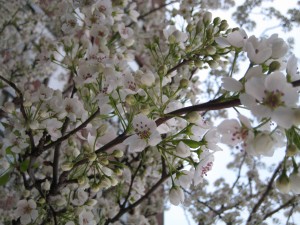 Blech. When did we become so responsible?
But speaking of vacation … I know that I'm ripe for another one sometime soon. Maybe it's the fatigue I've been dealing with. Or maybe it's the feeling of being overworked that has me feeling like this. Either way, I think it's time some quality Mr. & Mrs. ApronStrings time.
Unfortunately … and this goes back to the whole scheduling a vacation thing … that probably won't be until August; when we're scheduled to go on an Alaskan cruise out of Seattle with my parents.**
Oh, I take that back. It'll be in July to Toronto for Hubby's cousin's wedding. But even then, it'll only be for a long weekend.
Anyhoo … I wish that my numbers would come up in the MegaMillions lottery. That way I can go on vacation and travel more often!
~~*~*~*~*~*~*~*~*~*~*~~
Whew. I did it. I blogged for two straight months … IN A ROW!
And thanks to NaBloPoMo … I get this lucky badge to add to my awards and such. Woo-hoo!
But hold on to you're seats, kiddo. I still have 5 mores left of posting daily to fulfill that Lenten promise. So without further ado:
Random Act of Kindness Today: Sunday it was my kitty, Rain that needed all the attention. Today (and in most days that I work from home), it was my other kitty, Yami. So … before taking our Kozzy-girl out for that mid-morning walk, I let Yami snuggle on my lap and paw away at my computer for a bit until she got fed up with me trying to take a picture of her on the PhotoBooth application on my laptop. She's just too adorable to resist … but when ya gotta work … 🙂
Grateful Thought Today: Work-From-Home Days … for all the reasons I listed above. Plus … the fact that I tend to concentrate better on reports and projects without the constant interruptions and meetings. Somedays it can be a challenge (read: still get interrupted by emails and phone calls and IM's), but it's worth it just to be able to sleep a tad longer.
~~*~*~*~*~*~*~*~*~*~*~~
** Thank G*D for my parents love of traveling … if it wasn't for them, I don't think Hubby & I would have the gumption to plan something on our own. But really … it would be nice to have a quick getaway with just Hubby & me; to recharge our batteries.