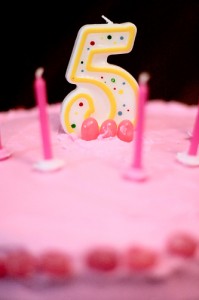 Did you know that both the tra­di­tional and mod­ern anniver­sary gift for five years is wood?
Wood?!
Good thing we don't cel­e­brate anniver­sary dates with other peo­ple, because I'm pretty sure I'd be get­ting a lot of wooden bowls or cut­ting boards. Or wood statues …
Why am I bring­ing this up? Because today, my friends, is my fifth blo­giver­sary. Or rather "Blog O'Versary" since it's St. Patty's Day. (Luck o' the Irish to y'all …)
It's funny, because my goal was to reach 500 posts by today. I fig­ured … hey, why not cel­e­brate two mile­stones at once.
Except, well … I some­how missed that 500 mile­stone about 11 posts ago. Amaz­ing, con­sid­er­ing I haven't been writ­ing much lately.
It's been dif­fi­cult, I must admit, to write lately. Work has me on a crazy sched­ule and I've had waay to many per­sonal issues that I've been obsess­ing over lately. So that leaves me lit­tle time to sit and write.
I'm hop­ing to make some changes in the next few weeks that will allow me to write a lit­tle more, but right now it's just a glim­mer of hope. So if the kind blo­gos­phere could send a quick prayer up to the heav­ens above that this glim­mer become more of a flame to light my way to a bet­ter change in my life, I'd very much appre­ci­ate it.
I real­ize I'm being vague about what I want to change, but I just ask that you stick with me and pray for the change that I need. If things do go the way I hope it does, then I promise I will tell you more.
Any­way, just wanted to write my lit­tle ditty for the week and … WTH … brag to peo­ple that I've man­aged to keep this blog alive for five years!
Thanks to all of you that are still out there read­ing … I can't tell you (in words) how much it means to me.
Related Posts