I have to admit. I've had little time to blog lately. Plus there really hasn't been any exciting news or anything worthy I've felt I've needed to say. Which is what makes "stepping out" of my blog silence this week especially important.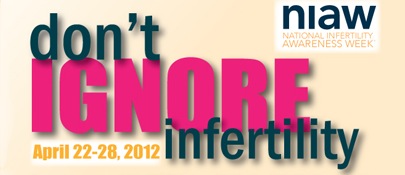 Yes people, it is National Infertility Awareness Week (NIAW) again. This year the theme is "Don't Ignore Infertility."
I've written about my infertility journey so many times that it feels like I'm a broken record. And since I haven't had time to write … I think the best way I can celebrate this week is to re-post some of my older posts that follow this year's theme.
I hope you enjoy these "oldies but goodies" …
So here's my first one … Ironically one written back in 2010 when RESOLVE began their campaign to stop infertility unawareness. (Original link can be found here.)
******
If you have a moment, please watch the video below and then click over to the RESOLVE website to read about what you can do to raise awareness about Infertility.
Here you should be able to find the link to the SELF Magazine article that I talked about in my previous post.
As a person who is living Child-Free after Infertility, I think it's extremely important for both the general population and the Infertility Community to be aware that Infertility is a disease that cannot be simply "cured" by Assisted Reproductive Therapy (ART), pregnancy or adoption.
Infertility is a disease that affects the livelihood of 1 in 8 American couples. And most of all, not all Infertility stories are are success stories.
Regardless, I believe that every Infertile — including former Infertiles (those who have now become parents) — should voice their struggles (or past struggles) to others. The only way for Infertility to have a VOICE is to speak about it, loudly & proudly.
We should not be ashamed of what we've been through. We should no longer hold our struggles and emotional pain internally.
We should no longer keep our Infertility a secret …
So while you're on the RESOLVE website, I also encourage you to take the pledge.
*****
And now a message from the Executive Director of RESOLVE