I have this habit of singing this song whenever I'm up early on a Sunday morning. It's probably a leftover habit from the mid-80's. It reminds me of getting up on Sundays and having to go to mass with my parents. Hmm … what does that say about me?
So here I am, sitting in a relatively quiet household. The only sound I can hear is my stomach growling (it's calling for pancakes or waffles) and my Hubby's breathing as he sleeps. I figure he deserves to sleep in … he's had a rough couple of weeks, not only with my Dad's hospitalization but with some major projects he had going on at work at the same time.
And although I wanted to stay cuddled up next to Hubby and sleep in a bit, I had to make a trip over to my parents' house to drop off a prescription for my Dad.
Yep … Dad made it home safe and sound. Up next … a visit from a home care nurse to help them go over all his new medications and to go over some important things he needs to do … like watching his diet and continuing to do aggressive deep breathing treatments to prevent any further pneumonia.
I specifically asked for a visiting nurse to come out to see my parents because, even though I could be that person to go over all these things, there are some things that get reinforced better by other professionals than by family members. No matter how many times my brother and I go over it ourselves with them.
Speaking of my brother … he's back in Chi-town where he's finishing up his last year of residency. He takes his boards on Monday and Tuesday and I'm wishing him the best of luck. He has totally been a trooper during these past weeks, having to drive back and forth (a total of FOUR times) to show his support for both Mom and Dad.
But really … what I wanted to do was to share pictures of his dog. Meet Wrigley. He's a five-year ex-racing greyhound that my brother and SIL picked up from a rescue league outside of Chicago.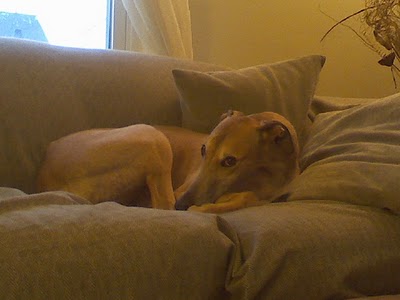 This dog is SO laid back … you can't help but love Wrigley and his personality. The whole time I was there, he did not ONCE bark (unlike our "puppy" who sounds off at approximately 30 barks per minute). And once Wrigley decides he likes you, he literally wants to sit with you (or on you) and follow you wherever you go.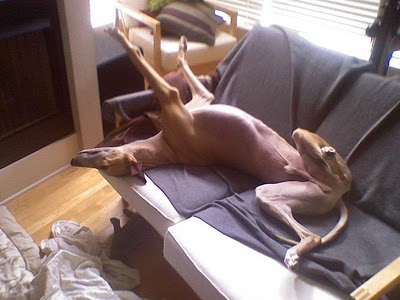 Wish I could see Wrigley more often. But alas … his Auntie Em only gets to see him whenever he's brought into town with his Daddy. And can you just imagine this dog driving in a small Mazda for five hours from Chicago to Detroit? Geesh … where does he fit!