Going through Infertility has brought me many things in my life; both good and bad. But seeing that today is Thanksgiving, I thought I'd share with you what I'm actually thankful that Infertility has given me. So here's my list:
The Weight: With all those pills and shots taken over the years, I can thank IF for all that added weight gain. Of course, it's also my un-doing that I refuse to eat any healthier or exercise any more than needed to get rid of my "not-so-pregnant" belly! On an upswing? Bigger boobs. 😛
Speaking of shots … oh, those wonderful shots! I can thank IF for all the bruised areas on my thighs and abdomen I had when going through those medicated cycles. It's not so much that I don't know how to give a shot — I *am* a Registered Nut — I mean Nurse. It's more the fact that I can proudly poke myself like a human pin cushion and not be scared about it anymore. In fact, if I had to do it again … Nah, nevermind.
Speaking of needles … I'd like to thank my body for producing enough blood so that those vampires — I mean Phlebotomists — can take all the vials of blood they need to run their tests. But I also want to thank those blood-suckers — I mean Phlebotomists — for being so kind and patients; especially when I was having a particularly rough day.
In fact, I'm thankful for all those health care workers (from the nurses, to the receptionist … even the Ultrasound tech) for being so wonderful. In the throes of IF, I may have shot imaginary daggers at your back or given you dirty looks when you weren't looking … but reflecting back on those moments, you have all been so kind to me.
In fact, there have been lots of kind folks out there that I should be thankful for. Many of them are you, as readers of my humble blog. I've "met" the most compassionate women out in the blogosphere that "get me" sometimes more than the people I know IRL (in real life). So to you … my readers and commenters, both past, present and future … I'm grateful that you've graced my life.
For those folks that I know IRL that have been willing to listen to my stories of Infertility … I can't begin to tell you how much it means to me. For so long, I did not have anybody (but Hubby, of course) to listen to our "War Stories" … so for anyone IRL that has lent me their ears or provided me with the empathy I so desperately needed, I am forever in you debt.
I'm also indebted to Infertility for giving me back the gift of writing. It's something I've always loved to do as a young kid, but something that I could never take on as a "career." So I'm thankful for my tiny space in the Cyberworld where I can continue to write (as often or as seldom as I'd like) about my world; about my feelings. And about my thoughts, as crazy as they can be.
And to be honest, if it wasn't for writing about my Infertility, I wouldn't have been able to come to some sort of closure with my Infertility journey … even if it wasn't the outcome I expected. So there. I'm thankful that writing about IF has opened up a new path to my "new" future.
Not only am I thankful for my blog and the ability to write … I will always be thankful for those IRL family and friends that read and acknowledge my blog. For the longest time, this blog was the only way that I could tell people about my Infertility so that I could "save face" in my culture. Knowing that I could still tell my story and yet not feel ostracized in the presence of my family and those Filipino family friends has been an absolute Godsend. It has given me strength in the midst of adversity.
But the most important thing I'm grateful that Infertility gave me is my relationship with my husband. Nothing more has tested our wedding vows more than Infertility has. It brings new meaning to the words "In sickness and in health" and "For better or worse." I know many couples that can say the same thing and have gone through adversities (even those who had gone through other crises other than Infertility) that know exactly what I mean. My marriage is stronger because of Infertility and my love for Hubby has grown deeper than I ever thought it would. It's thanks to Infertility that I know the meaning of unconditional love; one that will last through the test of time … with or without children in our lives.
So those are the things that I'm grateful that Infertility has given me. I'm sure I can come up with more things to be thankful about … and not necessarily good things, but I'm trying to stay  on the positive side these days. So I think I'll leave those parts out.
How about you, oh IF internet peeps? What are you thankful that Infertility has given you?
And for those non-IF folks … it is Thanksgiving, after all. Tell me what you're thankful for.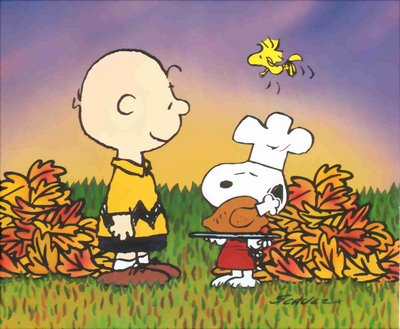 Happy Thanksgiving to All!