Going through Infer­til­ity has brought me many things in my life; both good and bad. But see­ing that today is Thanks­giv­ing, I thought I'd share with you what I'm actu­ally thank­ful that Infer­til­ity has given me. So here's my list:
The Weight: With all those pills and shots taken over the years, I can thank

IF

for all that added weight gain. Of course, it's also my un-​​doing that I refuse to eat any health­ier or exer­cise any more than needed to get rid of my "not-​​so-​​pregnant" belly! On an upswing? Big­ger boobs.
Speak­ing of shots … oh, those won­der­ful shots! I can thank

IF

for all the bruised areas on my thighs and abdomen I had when going through those med­icated cycles. It's not so much that I don't know how to give a shot — I *am* a Reg­is­tered Nut — I mean Nurse. It's more the fact that I can proudly poke myself like a human pin cush­ion and not be scared about it any­more. In fact, if I had to do it again … Nah, nevermind.
Speak­ing of nee­dles … I'd like to thank my body for pro­duc­ing enough blood so that those vam­pires — I mean Phle­botomists — can take all the vials of blood they need to run their tests. But I also want to thank those blood-​​suckers — I mean Phle­botomists — for being so kind and patients; espe­cially when I was hav­ing a par­tic­u­larly rough day.
In fact, I'm thank­ful for all those health care work­ers (from the nurses, to the recep­tion­ist … even the Ultra­sound tech) for being so won­der­ful. In the throes of

IF

, I may have shot imag­i­nary dag­gers at your back or given you dirty looks when you weren't look­ing … but reflect­ing back on those moments, you have all been so kind to me.
In fact, there have been lots of kind folks out there that I should be thank­ful for. Many of them are you, as read­ers of my hum­ble blog. I've "met" the most com­pas­sion­ate women out in the blo­gos­phere that "get me" some­times more than the peo­ple I know

IRL

(in real life). So to you … my read­ers and com­menters, both past, present and future … I'm grate­ful that you've graced my life.
For those folks that I know

IRL

that have been will­ing to lis­ten to my sto­ries of Infer­til­ity … I can't begin to tell you how much it means to me. For so long, I did not have any­body (but Hubby, of course) to lis­ten to our "War Sto­ries" … so for any­one

IRL

that has lent me their ears or pro­vided me with the empa­thy I so des­per­ately needed, I am for­ever in you debt.
I'm also indebted to Infer­til­ity for giv­ing me back the gift of writ­ing. It's some­thing I've always loved to do as a young kid, but some­thing that I could never take on as a "career." So I'm thank­ful for my tiny space in the Cyber­world where I can con­tinue to write (as often or as sel­dom as I'd like) about my world; about my feel­ings. And about my thoughts, as crazy as they can be.
And to be hon­est, if it wasn't for writ­ing about my Infer­til­ity, I wouldn't have been able to come to some sort of clo­sure with my Infer­til­ity jour­ney … even if it wasn't the out­come I expected. So there. I'm thank­ful that writ­ing about

IF

has opened up a new path to my "new" future.
Not only am I thank­ful for my blog and the abil­ity to write … I will always be thank­ful for those

IRL

fam­ily and friends that read and acknowl­edge my blog. For the longest time, this blog was the only way that I could tell peo­ple about my Infer­til­ity so that I could "save face" in my cul­ture. Know­ing that I could still tell my story and yet not feel ostra­cized in the pres­ence of my fam­ily and those Fil­ipino fam­ily friends has been an absolute God­send. It has given me strength in the midst of adver­sity.
But the most impor­tant thing I'm grate­ful that Infer­til­ity gave me is my rela­tion­ship with my hus­band. Noth­ing more has tested our wed­ding vows more than Infer­til­ity has. It brings new mean­ing to the words "In sick­ness and in health" and "For bet­ter or worse." I know many cou­ples that can say the same thing and have gone through adver­si­ties (even those who had gone through other crises other than Infer­til­ity) that know exactly what I mean. My mar­riage is stronger because of Infer­til­ity and my love for Hubby has grown deeper than I ever thought it would. It's thanks to Infer­til­ity that I know the mean­ing of uncon­di­tional love; one that will last through the test of time … with or with­out chil­dren in our lives.
So those are the things that I'm grate­ful that Infer­til­ity has given me. I'm sure I can come up with more things to be thank­ful about … and not nec­es­sar­ily good things, but I'm try­ing to stay  on the pos­i­tive side these days. So I think I'll leave those parts out.
How about you, oh IF inter­net peeps? What are you thank­ful that Infer­til­ity has given you?
And for those non-​​IF folks … it is Thanks­giv­ing, after all. Tell me what you're thank­ful for.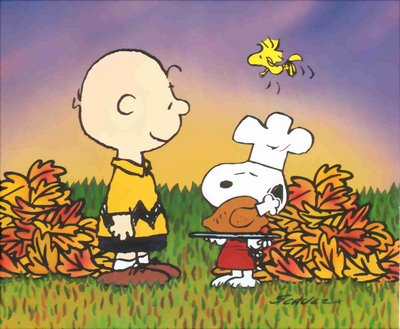 Happy Thanks­giv­ing to All!
Related Posts