Last night after coming home from the hospital, Hubby & I climbed into bed and quickly fell asleep. I had strange dreams of kitty cats attacking me (they've been "banished" from the bedroom from Hubby for "bad behavior." And they've been meowing incessantly to get into the comfy bed with me) and of waking up late and missing my Dad's pacemaker procedure in the morning. (Can we say I'm just a little stressed?!)
At around 3 am, Hubby woke me up from a pretty deep slumber asking me for some assistance. "Huh?!," I said groggily. What kind of help would he need at 3-frickin' o'clock in the morning?!
"The heater's not working," Hubby informed me. "And I need some help looking at our furnace." And sure enough, it was colder than Joe Louis Arena during a Red Wings game. 52 degrees, in fact (which, considering it was in the 20's outside, is quite a bit chilly).
So after clanking around in the basement for a bit, we ended up looking up our local heating & cooling company and calling them to make a service call first thing in the morning.
Except they didn't come until close to 10:30 am. And by then, my poor kitties and"puppy" were chilled. And Hubby & I were downright frozen to the bone … despite the fact we were bundled in as much clothing as possible.
Geesh. When it rains … it certainly pours.
On a happier note, my nephew Tyler turned twelve today. This, of course, also means that I will have been married 12 years ago this coming August. Which means it will be oh … approximately 11.5 years since we've been TTC. Sigh …
Regardless, I wish Tyler a HAPPY 12th BIRTHDAY!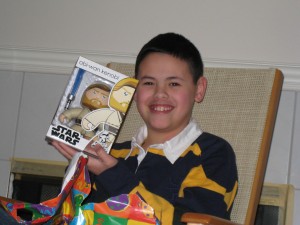 Your Uncle & Auntie Em love you "To Infinity and Beyond …. "