I'm try­ing to be dili­gent about updat­ing this blog at least once a week. If any­thing, let the blog serve as a sort of a rou­tine for my oth­er­wise routine-​​less life.
Okay, so my life isn't with­out rou­tine. Oth­er­wise, why would I be at a tea house on a Sat­ur­day after­noon try­ing to catch up with some work that I can't seem to get done after my online teach­ing sessions?
I'm feel­ing over­whelmed and anx­ious lately. There seems like there's so much to do and not enough time to do it. I mean, I'm glad that I'm catch­ing up on some work today out­side of my home office, but then that leaves all the other house­hold stuff up in shambles.
To top it off, at the end of this month I'll be trav­el­ing 5 days a week for the next 7 weeks, which – on top of try­ing to learn a new expense sys­tem for work (as well as quite a few new things work has got up her sleeve) – has me at the brink of a ner­vous break­down. (Or maybe I'm already there?)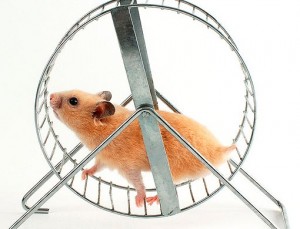 My hus­band seems to think that I've got some really skinny ham­ster on a wheel run­ning non­stop inside of my nog­gin. He tells me this because he thinks my mind spins out of con­trol, work­ing over­time about worrying.
And d*mnit if he isn't right. I just wish I could slow the ham­ster down enough to allow me to quit wor­ry­ing about … well, worrying.
So yeah. This is my weak attempt at a post this week. Maybe next week I'll have some­thing bet­ter to talk about.
But for now, it's all about the "Seren­ity Prayer" in my mind. That and a warm, hug­gable Hus­band is all that keep the ham­ster in my head at bay …
Related Posts