Random Acts of Crime-ness
Part Three in my ongoing series about Asian Americans
(Part One begins here)
I'm back like a bad habit. But as you can see, I've had a lot of emotions about being Filipino-American bundled inside me for many years. I figured that since I had a captive (??) audience, I could give you other experiences I've encountered. Take it as you would, my point in telling you these stories is to make others aware of what happens when you've been judged solely on the color of your skin and what your ethnicity is.
Let's start out with the most recent incident. Three weeks ago, Hubby and I headed out to run some errands. It was strangely very sunny on this blustery day which made the scratch on our car much more apparent.
We knew for sure that scratch, extending from wheel to wheel on the driver's side, was NOT there two days ago when we did our weekly grocery run. At first, we thought that a runaway grocery cart produced this scratch. However, on further inspection, it looked like someone deliberately took his/her key and ran it on our car as he/she was walking away.
TBH, Hubby and I tried not to read into things, but given the amount of violence against Asians these days, you never know. A person may have seen us exit our car and saw that we were Asian. Or they may have looked at my Subaru Forester be disgusted that it wasn't an American car. Either way, it was more annoying, rather than unsettling; which is what I think this petty person was hoping to achieve.
Shortly after the 2016 Presidential Election, I never experienced so much vitriol and hate from another person. Since then, I've been told to go back to my own country several times.[i]  I've had several racial slurs directed at me[ii], though they could never get the actual ethnicity correct. I've cringed at news about racial disparity more so than I had in the past. It seemed as if the results of the 2016 Election gave others permission to spew such hate.[iii]  But let's face it; prior to 2016 these type of Hate crimes for Asian Americans and any marginalized minority group have occurred throughout the history of America. In fact, I've had several instances where I was consciously aware that I was being "profiled;" of being the recipient of micro-aggressions.
As I mentioned before, I became consciously aware in high school that there were people in the world that saw and treated me inferior to them. After that realization, I began to reflect on other instances where I may have been singled out just because I was Asian.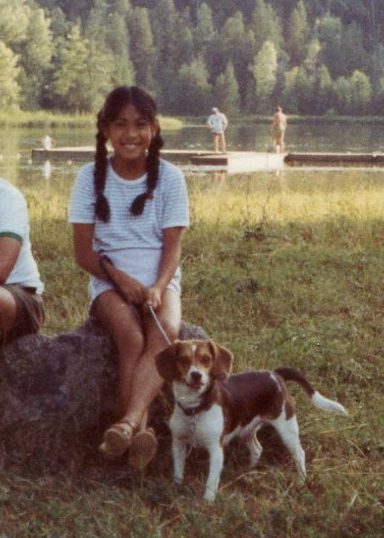 One of them was a popular childhood chant that aimed at Asian-Americans of Chinese or Japanese descent. While I won't repeat it, it infers that these people had "dirty knees" and was therefore unclean. I remember certain classmates squinting their eyes while using their hands to perpetuate the stereotype that Chinese eyes slant upwards, while the Japanese eyes slant downwards.
The irony is that this rhyme speaks volumes about the exclusion of Asian Americans in the US. It's a direct reference to the living conditions where Asian Americans lived. This silly childhood rhyme reveals the exclusion of Asian Americans by refusing to supply government services such as water and to the area where they reside.[iv]  Sadly, by passing this childhood rhyme down to kids, it continues to teach the next generation of children that exclusion is good.  It perpetuates their belief that Asians were inferior to Caucasians in America.
Around that same time period (specifically in June 1982), a young man named Vincent Chin was a victim of a hate crime, resulting in his death four days later. He was bludgeoned with a baseball bat.
This became national news at the time, yet I was oblivious to it until 1987 (the year I started *that* job) when Ron Ebens was cleared of any federal crime. That summer, I read everything I could about Vincent Chin's death. I also tried to find information about other racially-motivated hate crimes. Sadly, at that time, my only way of obtaining information was to go to the library and use an *actual* card catalog to flip through random cards by various authors or subjects. The selection of books was very slim.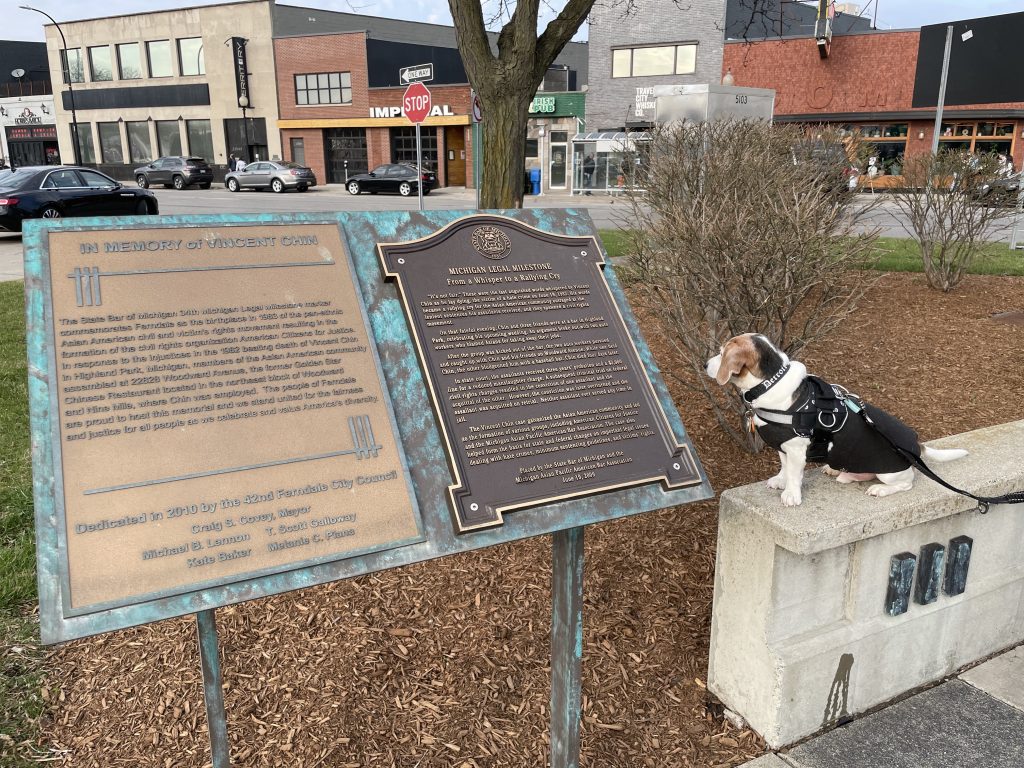 If you can recall, in the late 70's and early 80's, the auto industry was in a slow, unequivocal free fall. The energy crisis had hit the industry particularly hard. Since Detroit is known as the "Motor City," the birthplace of mass-produced cars, many autoworkers were facing wage-cuts and/or job eliminations.
In contrast, the Japanese auto industry was booming. Many Americans outside the auto industry were purchasing Hondas or Toyotas or Mazdas; Japanese brands that they felt were more efficient on gas and didn't require as much maintenance or use as much gas as the Big Three[v] cars did.
Leading up to June of 1982 there was obvious animosity towards all Asian Americans. The encounter between Chin and Ebens & stepson, Michael Nitz began at a club.  Ebens called out to Chin, specifically stating, "It's because of you little the m*therf*kers that we're out of work." Ebens, was clearly lumping Chin, a Chinese American, as a Japanese American.
A brawl ensued between the three resulted in the club's security throwing al of them  out on the street. Chin made the mistake of challenging Ebens & Nitz to another fight. At that point, Ebens grabbed a baseball bat from Nitz's car and both began to chase after Chin, who ran away on foot.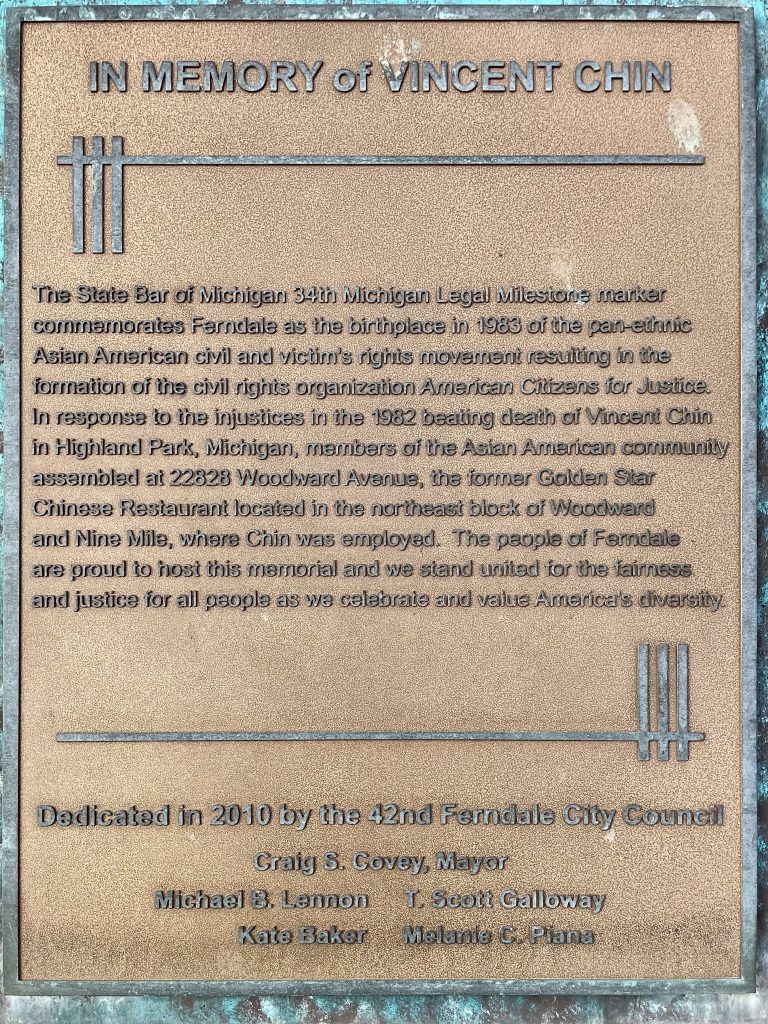 Ebens & Nitz spent 20 minutes looking for Chin, even paying another man $20 to help them find him. Chin was eventually found at a McDonald's location close by. Nitz held Chin down as Ebens repeatedly bludgeoned Chin with the bat until his head split open. Sadly, Chin died 4 days later, never having gained consciousness. He was due to marry his fiancé later at the end of June.
A 1984 federal civil rights case against the men determined that Ebens was guilty; he was sentenced to 25 years in prison. Nitz was acquitted. In 1987, a retrial for Ebens (who's conviction was overturned in 1986) was moved from Detroit to Cincinnati due to the publicity of this trial. At this trial, the Cincinnati jury cleared Ebens of all federal charges. Ebens never spent a night in prison.
As a result, the case is viewed as the critical turning point for Asian-American civil rights engagement. It also became a rallying cry to the federal government for the need for stronger federal hate crime legislation. In 1999, the Hate Crimes Prevention Act became federal law.
Today, there remains a memorial plaque placed on Woodward Avenue's median just east of 9 Mile Road in Ferndale; where Chin worked at Golden Star Chinese Restaurant where he worked.[vi]  Not many Detroiters are aware of this plaque, thus indicating that Vincent Chin has been all but forgotten. At least until recently.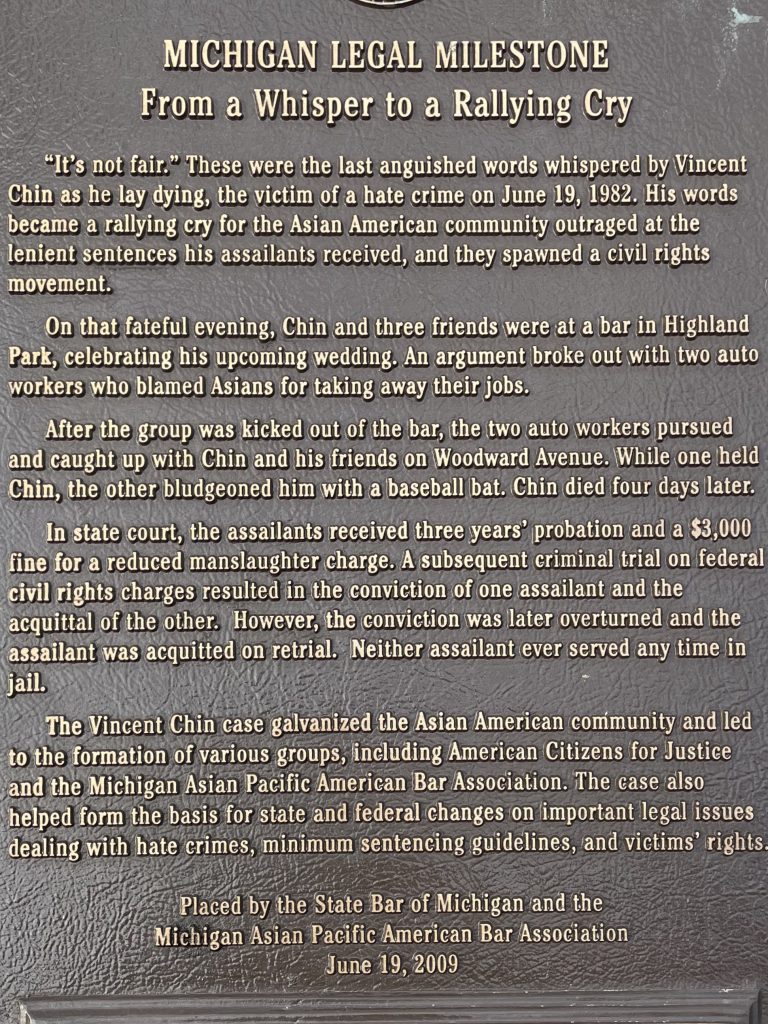 Vincent Chin is far from being the only instance of Asian American hate crimes. In 1975, Peter Yew was a victim of police brutality from the NYPD. The Stockton Schoolyard Massacre of 1989, where media and government focused on the need for better gun control; barely mentioning the deaths of five Vietnamese children in a mostly-Vietnamese elementary school. Hung Truon, a 15-yo Vietnamese boy from Katy, TX was kicked to death in 1991 by two teenagers while repeatedly shouting, "White Power."
Then there's Jim (Ming Hai) Loo, who in July 1989 – only two years after Ebens' trial – who's death was eerily similar to that Vincent Chin.
The reason why Vincent Chin's story is still being told 40+ years later is not because of his death.[vii]  Rather, it remains the most prominent example of a modern day, post-civil rights, racially-motivated hate crime. This happened more that 30 years after the events in Little Manila; yet the reason behind such hate remains the same.
---
[i] Which I find ironic seeing that I was born here and AM in my own country
[ii] Also funny since they could never get the actual ethnicity correct. Am I Chinese? Am I Thai? Am I Latino? Yes, I've been mistaken for Latina several times that people have asked me if I can translate Spanish to English for them.
[iii] Basically, the government refused Asian Americans their basic Human Rights.
[iv] Lead by example, I've been taught. Sadly, the leadership at that time was heavily promoting bigotry, misogyny, disparity, identity, equity and other issues.
[v] For those unfamiliar, the Big Three are Ford, Chrysler and General Motors.
[vi] Currently Imperial Restaurant, known for their street-tacos (see it in the background?)
[vii] Nor is it simply due to recent hate crimes affecting Asian Americans
---