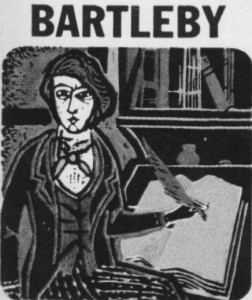 Hubby & I spent the night on the west side of the state Sat­ur­day night. We were out that way specif­i­cally to catch the the­ater debut of one of our friends. (I'd tell you more about the play, but "I'd pre­fer not to." But I do have to say, I do think our friend did a won­der­ful job.)
We've been to this town before (the most recent to see the Cow­boy Junkies about five years ago), but never got a chance to really check the place out. But since our friend lives out there, we man­aged to get the "grand tour" of the area which included a trip to a local brew­ery that pro­duces the only beer my alcohol-​​allergic /​ beer-​​loathing Hubby will drink. Seri­ously didn't know that this brew was locally-​​produced.
Any­way, we ended up stay­ing the night because the play didn't even start until 11:00 pm. And then after­wards, well … of course we ended up going out and grab­bing a drink after­wards. So we booked a room at one of the local hotels just to rest our heads for the night. After all, it's a decent 3-​​hour ride back to Detroit and we weren't about to make that drive after being out until 2 am. (Okay, maybe we would … if we were still college-​​age!)
The next morn­ing, I turned on the TV in the room (while Hubby started to get ready) and started flip­ping through the chan­nels. As I flipped, I stum­bled onto the Dis.ney chan­nel that hap­pened to be show­ing the ani­mated film, "Ta.rzan." I don't know what pos­sessed me to keep the TV on that chan­nel, but I sud­denly found myself sucked into the movie.
There's some­thing about Dis.ney ani­mated movies that I really enjoy. Espe­cially the ones that were pro­duced from "The Lit­tle Mer­maid" onward. OK, so there were a few that I could care less about (hmmm … "Emperor's New Groove"?), but over­all I've liked their films.
In fact when plan­ning our wed­ding, Hubby & I cre­ated a "Three Wishes" theme, includ­ing design­ing our own invi­ta­tions (which, back in 1996, was def­i­nitely not a com­mon thing to do) based on the movie "Aladdin." It started with a porce­lain fig­ure of Jas­mine & Aladdin that Hubby gave me when we were still dat­ing which we thought would make a great cake top­per. Then we chose "A Whole New World" from "Aladdin" as our first dance and then gave lit­tle ceramic genie lamps as our favors. Yes, I guess you can say we had our own ver­sion of our "Dis.ney Fairy Tale" wedding.
But I digress … What struck me about watch­ing "Ta.rzan" was the whole "Boy being raised by a gorilla" thing. Specif­i­cally the part where Ta.rzan found out how he came to live with and grow up with a pack of goril­las. Now, I'm assum­ing that most peo­ple have seen this movie or are famil­iar with the story. How­ever, if you haven't and you have the urge to read the book /​ watch the movie … then I sug­gest you skip the next two paragraphs.
*
If you recall that in the movie (because the movie actu­ally does vary a bit from the book by Edward Bur­roughs), Ta.rzan was brought up by a pack of goril­las and was always regarded by the other goril­las as dif­fer­ent. This, how­ever, didn't mat­ter to his "Mom," Kala, who brought him up as her own, after los­ing her own baby gorilla by the same leop­ard who killed Ta.rzan's par­ents. When Ta.rzan stum­bles upon Jane and is sur­prised that there is a per­son who looks sim­i­lar to him, he tries to learn from Jane (and her father) as much as he can about his "kind." Ulti­mately, Jane is sup­posed to be leav­ing back for "merry olde Eng­land." As Ta.rzan had ulti­mately fallen in love with her, he has to make the deci­sion to either remain behind or go with Jane.
Before Ta.rzan's deci­sion is made, Kala tells him the truth about his par­ents and how, after her own son died, she raised him as if he was her own child. After he makes his deci­sion to fol­low Jane, he turns to Kala and tells her that she will always be his mom.
*
Uh, yeah … and that's where the tears started flow­ing. (Thank God Hubby was in the shower at that point!) I kept think­ing that if I was Kala, I would would be absolutely heart­bro­ken. Proud of him, but utterly heart­bro­ken for myself.
First of all, it's the whole "mother who loses her own bio­log­i­cal child" thing. How can that not relate to how I'm feel­ing? Okay, so I never was able to get preg­nant on my own and have never phys­i­cally lost a preg­nancy. Or worse, a baby. But that doesn't mean that I don't have the right to grieve about not being able to have my own bio­log­i­cal baby. And how about those that have expe­ri­enced failed IVF's along­side with me? Or those that have expe­ri­enced ectopic preg­nan­cies or mis­car­riages? Those are all losses.
And then there's the whole "being raised by some­one that didn't give birth to you" issue. Uh … that would totally relate to adop­tion. I know that my jour­ney through infer­til­ity has taken me down the adop­tion path. And I know that every day I am one step closer to becom­ing just as strong as Kala want­ing to raise a child that isn't bio­log­i­cally part of me.
I know that adop­tion is my fate and once I have my child, I will be so totally, utterly and uncon­di­tion­ally in love with him/​her. BUT … I can't help but think that some­how, some­where down the adop­tion path I will truly start to freak out about the pos­si­bil­ity that this child might not love me or feel that the love he/​she has for me is not as strong as it would be if I were his/​her bio­log­i­cal mother.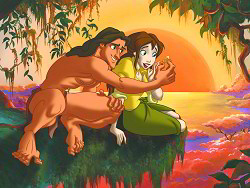 Huhm … I just real­ized that per­haps my child would prob­a­bly think the same of the love that I would have for him/​her. He/​She could be think­ing … "Does she love me as if I were born from her womb?" Well, the answer to that is yes. As I've never been able to expe­ri­ence preg­nancy, I guess I wouldn't know the dif­fer­ence between lov­ing a child that is bio­log­i­cally mine or lov­ing one that was brought into our fam­ily through adop­tion. So my future son or daugh­ter … I want to let you know this right now: I will love you, because … to me, you are my own child.
Damn Dis.ney … why must you always pro­duce movies about orphaned heroes or hero­ines that over­come adver­sity. Do you pur­posely peer into my heart and see which one of those heart-​​strings (or bet­ter yet, my apron strings) to pull?!
Related Posts