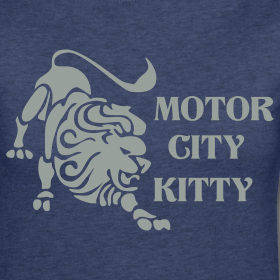 I didn't realize how much I missed "home" until being back in metro-Detroit this past few days. Maybe I'm just contributing the feeling of "home-sickness" to how jaded I am with my former employer. Which is bad, since I really truly do love the city of Chicago.
Anyway, we're back in Chicago for the next week or so. We have some business to take care of along with making sure that Yami & Rain haven't taken over the entire apartment with their crazy antics. (We never know what kind of trouble a smart black cat and a senior-citizen deaf cat can get into!)
Oh and next week we get to go see this. I am such a Gleek!
But anybody that knows me, knows I have a penchant for music. Love to sing. Love to try out harmonies. Love to listen to any type of music with a great beat and an amazing hook.
So it's probably no surprise to most of my HS and college friends that I'm heading back to Detroit to embrace my Goth/Industrial roots on Memorial Day Weekend. Yep … after missing last year, Hubby & I are going to head down to Hart Plaza to attend the Movement Festival; otherwise known as the Detroit Electronic Music Festival (DEMF).
Huh? Goth/Industrial music related to Electronic Music? Specifically Detroit Techno?
Yes, I say. My love for New Order naturally lead me to the darker Joy Division; then Bauhaus and all their reincarnations, which eventually led me to all other Goth/Industrial music out of the now-defunct Wax Trax label out of Chicago and the likes of Front 242, KMFDM, and even Kate's Meat Beat Manifesto. 🙂
Yes; the same Chicago that brought on the birth of hard-thumpin' bass-pumpin' House Music. Which, alongside Detroit Techno began the (r)evolution of Electronic Dance Music.
Anyway it's no surprise that in my college and post-college years, I spent lots of time at a bar/nightclub called Industry, which played a lot of industrial music mixed in with Chicago House and Detroit Techno.
Okay … so that was a quick lesson on the history of how I got into Electronic Music.
What I really meant to talk about was that this year is the 10th Anniversary of the inaugural Music Festival. Those who attended that first year will agree that there was something quite … for lack of better words, spiritual about that weekend. It was as if all the stars aligned and remain aligned for the entire holiday weekend. Not that there weren't any hiccups during the first year, but the fact that Detroit managed to put together something that garnered international attention … and not have it be about the Auto Industry or the crime rate of the city … was nothing short of incredible.
That inaugural year was actually captured on film by a few of Hubby's friends who were putting together a documentary about how the DEMF finally brought Detroit Techno back to its home. But because of a multitude of issues, the film … was never released. Until now, that is.
Ten years later, The Drive Home will finally be shown on the Big Screen; it's premiere being included in the pre-festival parties next Friday. I am sooo excited to be going!
For me, the best part will actually be seeing snippets of Hubby in some of the film footage. You see, Hubby & I were asked to "cover" the event for a HS friend of his, whose website was pretty well-versed in the NYC club scene. So as "Media" guests, both Hubby & I were able to get access to areas that the typical festival-goer did not have.
Now how do I know that Hubby might be on film? Well, it's because we've already seen him on the trailer! Check it out …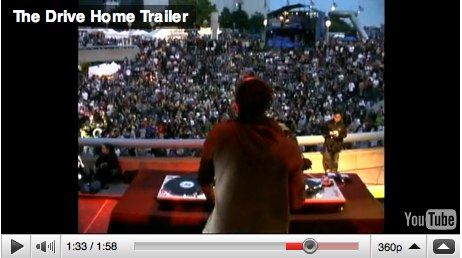 Anyway, I find myself connecting with the overall theme of this documentary. The fact of the matter is that Detroit Techno, while its roots come from musicians who have lived in Detroit, was more influential internationally than it was on its own backyard. However, as the years and decades past … the importance of this style of music was eventually recognized in the city from which it was born. While these artists and musicians (because it's not all about DJ's and sampling … ) are considered legends in other countries (such as the Netherlands and Germany), they go mostly "unnoticed" and they feel most comfortable when they're back in their home town.
And especially since this last visit back home, where we spent more than just a typical two-and-a-half day weekend in town, I've noticed I'm also more at ease when I'm on more familiar ground.
Again, this may all be as a result of my most recent stressors here in Chicago. But I can tell you this … I'm looking forward to our drive home next week.
Anyway, here's the trailer for The Drive Home … hope you enjoy.
And while you're at it … check out the part of the article we wrote for his HS friend's website. I'm actually amazed it's still out there on the web. Well, at least Part II is … not sure where Part I or III is! LOL!