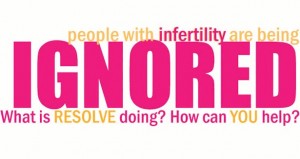 If you have a moment, please watch the video below and then click over to the RESOLVE web­site to read about what you can do to raise aware­ness about Infertility.
Here you should be able to find the link to the SELF Mag­a­zine arti­cle that I talked about in my pre­vi­ous post.
As a per­son who is liv­ing Child-​​Free after Infer­til­ity, I think it's extremely impor­tant for both the gen­eral pop­u­la­tion and the Infer­til­ity Com­mu­nity to be aware that Infer­til­ity is a dis­ease that can­not be sim­ply "cured" by Assisted Repro­duc­tive Ther­apy (ART), preg­nancy or adoption.
Infer­til­ity is a dis­ease that affects the liveli­hood of 1 in 8 Amer­i­can cou­ples. And most of all, not all Infer­til­ity sto­ries are are suc­cess stories.
Regard­less, I believe that every Infer­tile — includ­ing for­mer Infer­tiles (those who have now become parents) — should voice their strug­gles (or past strug­gles) to oth­ers. The only way for Infer­til­ity to have a VOICE is to speak about it, loudly & proudly.
We should not be ashamed of what we've been through. We should no longer hold our strug­gles and emo­tional pain internally.
We should no longer keep our Infer­til­ity a secret …
So while you're on the RESOLVE web­site, I also encour­age you to take the pledge.
*****
And now a mes­sage from the Exec­u­tive Direc­tor of RESOLVE
Related Posts