Dear Mother Nature,
I know you've been quite busy lately with natural disasters throughout the world. And I also know you've been filming some pretty funny tampon commercials and all. (BTW, you've never looked better!)  But I was wondering if I could ask you one small favor.
You see, I love lightning and thunderstorms as much as any other person … but the thing is, my poor overly-anxious dog does not. In fact, she despises it.
I don't so much mind it if the light show and marching band performance happens during the day or even late in the evening. After all, I always love a spectacular and entertaining production, but when it happens in the middle of the night, it's a whole other display.
Last night / Early this morning was an example of such a presentation. It started out with our poor Kozzy-girl pacing around the apartment about a half hour before the light show even began. And once we heard the click-click of her paws on the hardwood floor quicken, we knew the first wave of thunderstorms wasn't far away.
When the whining started shortly after the first display of fireworks, Hubby & I knew we were in for a treat. And as each crack-boom began to come closer and closer together; our 14-year old "puppy" would pant as she circled around the apartment faster and faster.
And dear Mother Nature, that's not such a great thing to hear shortly before 4 o'clock in the morning.
But see, dear Mother Nature … that's not the worse part of it all. Because Kozzy did eventually calm down; only after I spent an entire hour in our bathroom … the smallest room in the apartment with the brightest light and tiles that don't click-click as loud as hardwood floors. No, the worse part was that as soon as I got her into her "room" and onto her favorite rug … you decided to have — not one or two — but three encore performances. All of which happened over the next hour … until finally, an exhausted Kozzy fell asleep.
And believe me … had their been more than just the office chair in Kozzy's room, I probably would have done the same.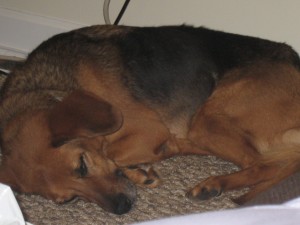 Alas, it was shortly before 6 o'clock before Kozzy finally let me leave her room — Hubby's home office — so I can catch some Zzzz's. And by that time, the sun had already broken through the clouds.
So Mother Nature … I do love you dearly; and I promise that I will continue to take care of you as best as I can. But could you please please please lay off the thunderstorms in the dead of the night?!
Kozzy, Hubby & I would love you dearly for that. And so would her cat-siblings, Rain & Yami …
~~*~*~*~*~*~*~*~*~*~*~~
* Pacey McPacer is the name we gave our poor Kozzy when she begins to pace around anxiously.
And just so you know that we're equal opportunity fur-parents, our other pets have similar names, too. There's Dusty McDuster, the black cat that does not like to be brushed. And there's Daffy McDeafster, the senior citizen cat that can't hear … or at least pretends that she can't!