A week after my Dad passed away last Decem­ber, my Mom told me that there was this phone mes­sage from the local CVS store left for my Dad. She had said that the caller stated that some photo my Dad had sent in for "restora­tion" would take a lit­tle longer than they had orig­i­nally thought; that it might be a few weeks more.
Mom had told me this because she wasn't aware that my Dad was hav­ing a photo "restored" and won­dered if I knew any­thing about it. Which I had not.
Flash for­ward to late March of this year. In prepa­ra­tion for her taxes, Mom had stopped by CVS on the way home to get a record of her med­ica­tion costs for 2010. While she was there, Mom sud­denly remem­bered the phone mes­sage she received back in Decem­ber, so she decided to stop by the photo sec­tion. She spoke to the tech­ni­cian there who had told her, "Yes, we were won­der­ing what hap­pened. He was insis­tent on get­ting the pic­ture done as soon as he could. And then we never heard from him."
After my Mom explained what had hap­pened, the photo tech­ni­cian was so sur­prised. "I'm so sorry," she said. "In fact, we were just about ready to call back again."
When Mom took the photo out of the enve­lope, this is what she saw: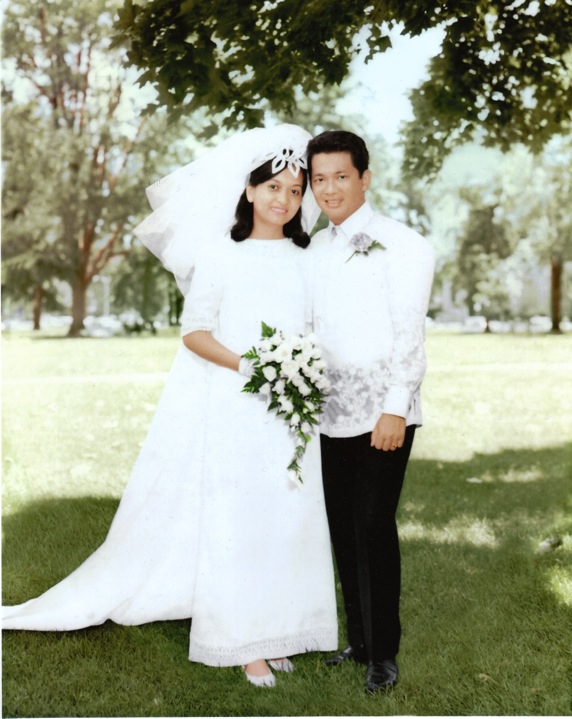 Yes­ter­day would have been their 42nd Wed­ding Anniver­sary. And I'm sure my Mom's heart felt bro­ken yet once again. Because I know that I'm miss­ing my Dad every sin­gle minute of every sin­gle day.
Happy Anniver­sary Mom & Dad. You might not phys­i­cally be by each other's side … but I know in spirit, you are.
Related Posts