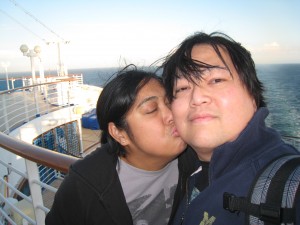 Darling Hubby,
Fourteen years ago, I gave my heart over to you completely. Which makes no sense, because I'm sure you won my heart over the first moment I climbed into that canoe with you on your sixteenth birthday. Of course, I refused to listen to my heart that day and kept you at arm's length for two years after that fateful moment.
But once I took that leap of faith (and kissed you first ), I knew that you'd be the person I wanted to spend the rest of my life with. Fourteen years ago today, we sealed our love with our marriage vows … and despite the ups and downs in life we've had, I wouldn't trade any moment of it. I would hold your hand and take every leap of faith with you, over and over again.
Happy Anniversary, Hubby!
Love Moves in Mysterious Ways
(music and lyrics by Julia Fordham)
Who'd have thought
 this is how the pieces fit?
You and I
 shouldn't even try making sense of it
I forgot how we ever came this far
I believe we had reasons
 but I don't know what they are
So blame it on my heart, oh
Love moves in mysterious ways
It's always so surprising
 when love appears over the horizon
I'll love you for the rest of my days
But still, it's a mystery 
of how you ever came to me
Which only proves
Love moves in mysterious ways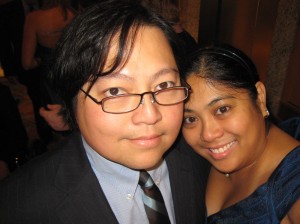 Heaven knows
 love is just a chance we take
We make plans 
but then love demands a leap of faith
So hold me close
 and never let me go
'Cause even though we think we know 
which way the river flows
That's not the way love goes, no
Love moves in mysterious ways
It's always so surprising
 when love appears over the horizon
I'll love you for the rest of my days
But still, it's a mystery 
of how you ever came to me
Which only proves
Love moves in mysterious ways
Like the ticking of the clock
 two hearts beat as one
But I'll never understand
 the ways it's done
Love moves in mysterious ways
It's always so surprising
 when love appears over the horizon
I'll love you for the rest of my days
But still, it's a mystery 
of how you ever came to me
Which only proves
Love moves in mysterious ways
As performed by Filipino singer, Nina