Like the cur­rent Stan­ley Cup Finals series, the Apron­Strings House­hold is split.
For those that aren't sports nuts like the two of us, that means that the Chicago Black­hawks and the Philadel­phia Fly­ers are both tied with two wins apiece after Game Four in the seven-​​game series.
Not that I mean to say that Hubby & I are at odds with one another … well, at least when it comes to our rela­tion­ship. Rather, we're at odds when it comes to cheer­ing on which hockey team we think should win the cov­eted Cup.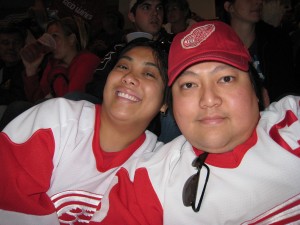 I should start off by say­ing that, first and fore­most, I will always cheer for my home­town Detroit Red Wings wher­ever we live. But since they failed to make it to the finals this year … I had no choice but to choose an "adopted" team.
I should also add here that if I had my druthers … and if the Red Wings weren't going to make the Finals … I would have absolutely loved to see two dif­fer­ent teams vying for the Cup this sea­son. And those two teams would have been the Van­cou­ver Can­nucks and the Mon­tréal Cana­di­ens. To me, it only seems fit­ting that the year Canada won Gold in a Cana­dian Olympics, then they should also deserve to have Stan­ley return home … at least for the year.
And yes, Mrs. Spit. I know this would have made you very very happy, also.

Instead now, Hubby & I find our­selves — for the first time in our mar­ried lives — root­ing against each other. Him cheer­ing for a team, sim­ply because they're con­sid­ered the under­dogs of the series. And me cheer­ing for a team, for the mere fact that this team's town has become my adopted town.
Hubby cheers for his team, sim­ply because his oppos­ing team has long-​​been rivals of the Detroit Red Wings. While I cheer for my team because it's been 47 years since this team has won the Stan­ley Cup.
Either way, it's been fun watch­ing the series with Hubby. And it's def­i­nitely made watch­ing the NHL's "sec­ond sea­son" much more interesting.
~~*~*~*~*~*~*~*~*~*~*~~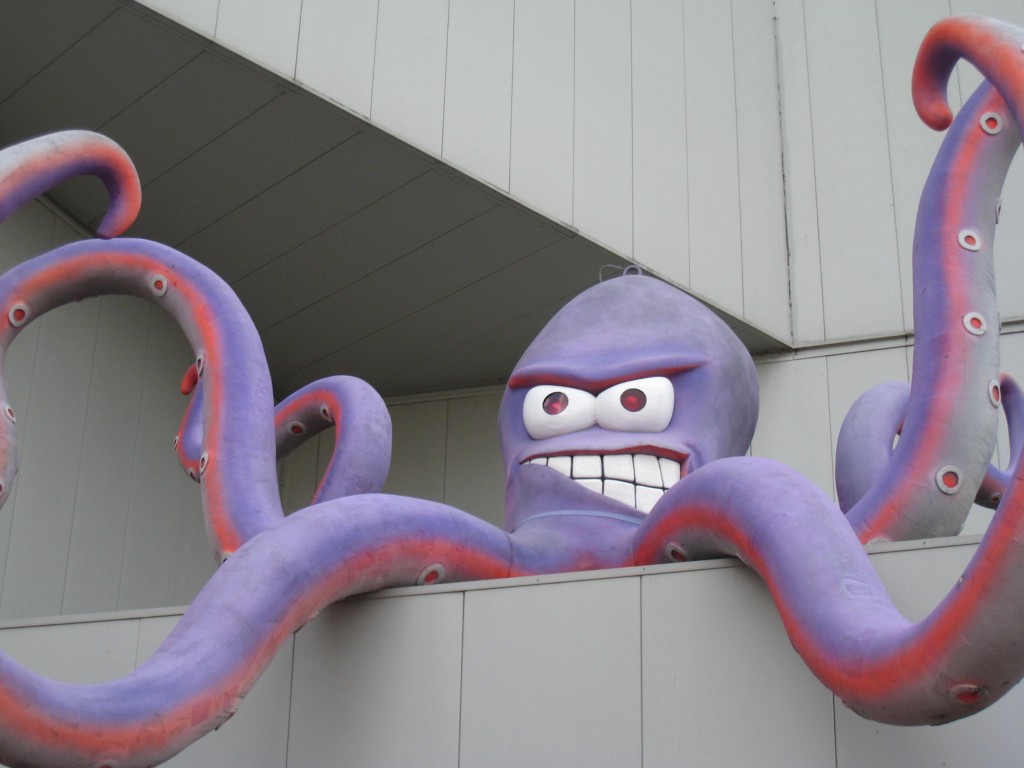 Meet Al the Octo­pus; the Detroit Red Wings mas­cot. For Wing Nuts, like our­selves, throw­ing octopi onto the ice dur­ing Play­off Sea­son is a long-​​standing tra­di­tion for the Red Wings Franchise.
As for how Al got his name … he was named after Al Sobotka, the gen­eral build­ing man­ager for Joe Louis Arena; and the won­der­ful soul that picks up every thrown octopi and twirls it over his head.