When Dr. Bro was about 12 years old, he took up Tae Kwon Do. Part of it was to learn self-​​defense; another rea­son was to gain con­fi­dence. I'd watch his classes from time to time; fas­ci­nated by the dis­ci­pline needed to prac­tice this mar­tial art.
Of course, a year after he started prac­tic­ing Tae Kwon Do, the orig­i­nal "Karate Kid" movie came out. It was def­i­nitely a movie that both of us had wanted to see. Dr. Bro, because of the ref­er­ence to learn­ing mar­tial arts. And me, because I wanted to see Ralph Mac­chio again after see­ing him in "The Out­siders". Of course, both of us just loved the film; as did every 10 – 14 year old that saw the film with us. It was quite evi­dent, espe­cially dur­ing the scenes dur­ing the tour­na­ment, when every kid cheered for Daniel Larusso to win.
This past Fri­day, Hubby & I went to an early evening show at the movies; some­thing we haven't done in awhile since find­ing myself unem­ployed. And of course we went to see the new ver­sion the "Karate Kid" … not only because we wanted to see how Jackie Chan could fill the role of Pat Morita, but because we were wanted to see how the story would trans­late now that it was set in China. We were not disappointed.
I must warn you, if you're look­ing for a com­pletely dif­fer­ent spin on the orig­i­nal movie, you won't find it here. The story line, from the cute class­mate to the bully, down to the some of the say­ings "Strike first! Strike hard! No mercy!" are the same. Except with this ver­sion, there seems to be some sort of twist to each ele­ment we see in the orig­i­nal film.
The first (and obvi­ous) twist to the story is that instead of being taught Karate, Jaden Smith's char­ac­ter (Dre) is taught Kung Fu. So, as a good friend pointed out … why not call it "The Kung Fu Kid" instead? Well, after a lit­tle research I did man­age to find out that the film is, indeed called "The Kung Fu Kid" internationally.**
Another twist is in how Mr. Han (Jackie Chan) teaches mar­tial arts to Dre. In the orig­i­nal movie, Mr. Miyagi's method of teach­ing Karate ranges from from wax­ing a car to paint­ing a fence.  This ver­sion does not have Dre being Mr. Han's chore boy. Nope … instead, Mr Han teaches Kung Fu by hav­ing Dre take his jacket on and off.
I admit that when ini­tially see­ing the whole "Jacket On/​Jacket Off" tech­nique (as opposed "Wax On/​Wax Off"),  it appeared pretty lame, for lack of bet­ter words. But when put into con­text with the rest of the film, this method of teach­ing not only taught Dre Kung Fu, but it end up teach­ing him about respect.
Being a first gen­er­a­tion Asian-​​American, that is the aspect of the film that spoke to me most. It was watch­ing a kid from the new "West­ern World" try to inte­grate his life in the old "East­ern World." There are many moments where we see Dre  act like a typ­i­cal Amer­i­can teenager; brash and arro­gant, unaware of his sur­round­ings. This atti­tude obvi­ously would not be accept­able in China where tra­di­tion and elders (as evi­dent by the mul­ti­ple scenes  of senior cit­i­zens exer­cis­ing) are revered.
Mr. Han does an excel­lent job, albeit reluc­tantly, teach­ing Dre about the impor­tance of respect in the East­ern World. He does it in the method in which he trains Dre in Kung Fu; because as Mr. Han says:
Kung Fu is in every­thing we do. It's in the way we put on a jacket. It's in how we treat peo­ple. Every­thing is Kung Fu.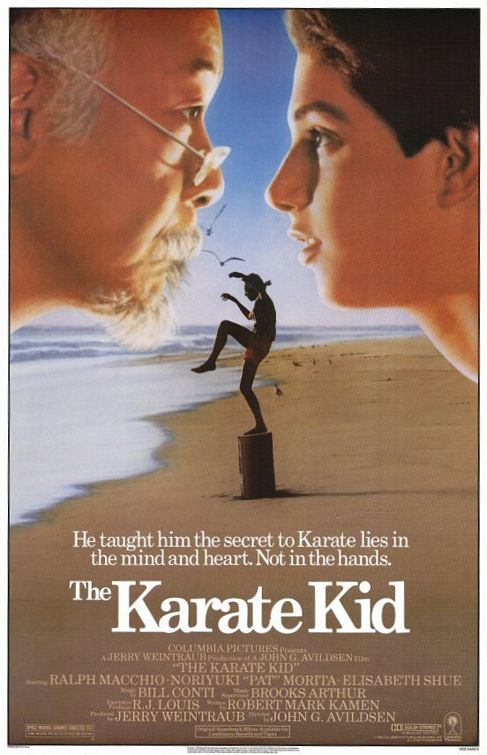 In other words (or at least what I get out of it), if you respect every­body … every­thing in your sur­round­ings … you, too could be a mas­ter of Kung Fu. You, too would be able to find bal­ance between mind and body.
What I hope that most kids (and let's face it, adults as well) get out of this movie is that there needs to be respect for every­thing; that we must treat peo­ple with the same respect that we would want in return. Whether it has to do with other cul­tures or reli­gions … or with Mother Nature and our own planet … we should find that bal­ance within ourselves.
When reach­ing the last few min­utes in the movie, I couldn't help but cheer Dre on as he moved through the tour­na­ment. And that last scene … oth­er­wise known as "the crane kick" in the orig­i­nal movie? Well, lis­ten­ing to those 10 – 14 year old kids around us clap and cheer … it reminded me of that day, some 26 years ago, when Dr. Bro and I watched the original.
~~*~*~*~*~*~*~*~*~*~*~~
** And while I was at it, I man­aged to find that there was actu­ally a Philip­pine TV show called "Kung Fu Kids". Hmm … talk about com­ing around full circle!