Hi! How was your Thanks­giv­ing week­end, read­ers? And for my neigh­bors to the north, hope you were able to cash in on some of the US's "Black Fri­day" deals … or do you even have any sales like that for the day after the US's Thanks­giv­ing hol­i­day? Yes, I'm just being curious.
My Thanks­giv­ing week­end was good: Got to spend time with Hubby's fam­ily on Turkey Day. And on the week­end, man­aged to eek out a few great sav­ings from Black Fri­day; both locally and at the "big box" shops. But the point is, I man­aged to check off a few peo­ple off my Christ­mas list.
More impor­tantly, my favorite col­lege foot­ball team man­aged to win the all-​​important "Biggest Rivalry in Col­lege Foot­ball" game. AND we got to watch the game at a bar & grill, hang­ing out with my two cousins.
These two girls — the youngest of my Dad's nieces (and close to 20 years younger than me!) — have seri­ously been the sup­port I've needed this past year while deal­ing with my Dad's pass­ing. Maybe it's because, like me, Dad had played an impor­tant part in their lives; many times being the father-​​figure that they've needed. And as we talked through­out that day, I some­how man­aged to remem­ber how much my Dad's pass­ing has affected them as well.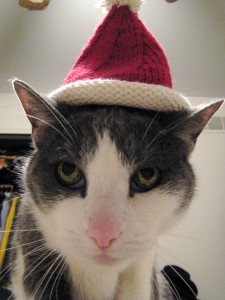 I for­got how my Dad would stick up for them if their moth­ers (my Dad's sis­ters) gave them prob­lems. I for­got how Dad would man­age to sneak them some cash when he thought no one was look­ing. I for­got how much he loved to play with them, and as they got older, joke around with them. I forgot.
So to my two cousins, who miss my Dad as much as I miss him … know that I remem­ber and that I'm for­ever grate­ful that you two always man­age to check up on me when I need it most.
******
And Rain? Don't worry, my dar­ling kitty. I didn't for­get about today either. I can never for­get the day that I lost my first and most favorite kitty in the world. Hope you're up there keep­ing Dad company .…