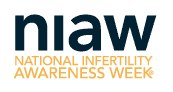 Since 2009, the last week of April has been designated as National Infertility Awareness Week (NIAW).** That means that yesterday, on Easter Sunday, marked the beginning of a week dedicated to bringing attention and providing much-needed education about the disease of infertility.
My blog has primarily been about my journey through infertility (and now the child-free life I'm living after infertility). Every year during NIAW, I have always found a way to dedicate at least one blog post to help educate my family and friends. Two years ago, it started as one long post that ended up being divided into six daily posts (yes, it was that long).
And last year, RESOLVE partnered with long-time IF blogger, Mel to come up with an overall theme for NIAW. What resulted was Project IF which challenged those IF bloggers to answer the question, "What IF?" My post for 2010, if you're interested can be found here.
For NIAW 2011, RESOLVE issued another "Call To Action" for IF bloggers. This year, we've been asked to properly "Bust an Infertility Myth." So that's what I'll be doing today.