The first time I ever took a home preg­nancy test (HPT) was on the morn­ing of first wed­ding anniver­sary. Hubby & I had only recently decided that we were ready to start the next phase in our lives together. Plus, Aunt Flo had been miss­ing for over a week by then, so I fig­ured it was time.
I won't lie … I also thought that the prospect of pre­sent­ing pos­i­tive "pee stick" as an anniver­sary gift would have made our first wed­ding anniver­sary together all that more memorable.
But when the test came back neg­a­tive, I threw the stick away and climbed back into bed to cud­dle with Hubby who was still sound asleep. And yes, I was dis­ap­pointed … but at that time in our lives, Infer­til­ity was just a dis­tant diag­no­sis, which was … in no way, related to me.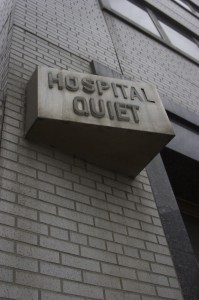 I've never told any­one this story before because until today, it wasn't some­thing that I con­sid­ered very rel­e­vant to my life as an "Infertile."
Hubby had been privy to this story, because later that day he hap­pened upon the open HPT pack­age in the trash and won­dered why I took one. But oth­er­wise, no one else in our lives had a clue that we were even "actively try­ing" at the time.
It was some­thing that Hubby & I, as a young mar­ried cou­ple, wanted to keep to ourselves.
*****
It's only nat­ural that most cou­ples wish to keep their deci­sions on family-​​planning a secret. Okay … maybe not so much a secret, but more of a dis­cus­sion that hap­pens strictly between the couple.
After all, it really should be no one's busi­ness to know what's going on in a couple's sex life. Right?
But what hap­pens when love and mar­riage don't auto­mat­i­cally lead to the prover­bial baby car­riage? And what if months — nay, years go by with­out hav­ing any­thing to show but a garbage full of neg­a­tive preg­nancy test?
What if you had spent thou­sands of dol­lars for an infer­til­ity diag­no­sis and work-​​up? And then turned around and spent even more money on try­ing to "fix" the med­ical prob­lems so that you could pro­duce a bio­log­i­cal child of your own?
Should a cou­ple still keep their family-​​building plans and the infer­til­ity diag­no­sis a secret?
What if you and your spouse had to con­tin­u­ously be poked by var­i­ous nee­dles and prod­ded by var­i­ous health pro­fes­sion­als, month after month, just to deter­mine when the opti­mal time was to repro­duce? To go home and have a romp in the bed­room (stress-​​free, of course)? To col­lect a man spec­i­men in the com­fort of a ster­ile clinic? To have to sit nice and pretty in those G*d-awful stir­rups? Only to be dis­ap­pointed month after month …
Would it still be inap­pro­pri­ate for a cou­ple to talk about how infer­til­ity has affected their lives?
What if you or your spouse were done pur­su­ing the med­ical route of infer­til­ity and decided to adopt? What if you spent an addi­tional thou­sands of dol­lars in order to be scru­ti­nized by adop­tion agen­cies, local and fed­eral gov­ern­ment offi­cials? Just so these agen­cies can deter­mine if you were "wor­thy" enough to be parents?
What if the Birth Mom/​Family decided to change their minds at the last minute? Or what if the coun­try you decided to pur­sue an inter­na­tional adop­tion decided to close their doors on all adoptions?
Would now be a good time to talk to loved ones about infertility?
And finally, what if you and your spouse thought­fully and thor­oughly con­sid­ered all your other options to build your fam­ily … and after years of dis­ap­point­ment and heartache, decided that liv­ing child-​​free was your best path in life?
Would it be okay for the cou­ple to com­fort­ably dis­cuss this deci­sion with any ran­dom stranger who asks if the cou­ple has any kids?
These are dif­fi­cult ques­tions to answer. I know; as I've had to dis­sect each indi­vid­ual ques­tion with a fine-​​tooth comb. I've had to deter­mine how each answer would affect the rest of my life and my rela­tion­ships with those I've felt close to at one time or another.
The truth is, each per­son … each cou­ple and/​or the fam­ily & friends that are affected by this couple's infer­til­ity … will have dif­fer­ent answers. That's because each person's jour­ney through infer­til­ity can be dif­fer­ent than the per­son stand­ing next to him or her. Even if they were sit­ting next to each other at an Infer­til­ity Specialist's office.
*****
I find it sad that soci­ety deems "family-​​building" dis­cus­sions as a pri­vate issue amongst infer­tile couples.
Okay, let me reword that last state­ment: I find it dis­ap­point­ing that soci­ety deems "fam­ily build­ing" dis­cus­sions as inap­pro­pri­ate when it comes to Infertility.
While I do think that there are cer­tain dis­cus­sions and deci­sions that should be left pri­vate amongst the infer­tile cou­ple, I do think that other con­ver­sa­tions should be okay to dis­cuss with other peo­ple … other fam­ily mem­bers and friends and other infer­tile couples.
Because if any­thing, Infer­tiles can be the worse when it comes to openly talk­ing about their expe­ri­ences and emo­tions when it comes to build­ing their family.
There's an arti­cle in SELF Magazine's August issue that out­lines this exact issue.
This arti­cle (aptly titled "This Woman Has A Secret") found that a recent sur­vey indi­cates that 61% of infer­til­ity patients hide their strug­gle to get preg­nant from friends and family.
And see­ing that 1 in 8 Amer­i­can cou­ples expe­ri­ence infer­til­ity … well, yeah. That's a lot of peo­ple that aren't talk­ing about the heady emo­tions that can be asso­ci­ated with the inabil­ity to reproduce.
Along with those ques­tions I pre­vi­ously posed, other com­mon con­cerns that an infer­tile cou­ple can expe­ri­ence include the fear that their life will be eter­nally empty. Or the sense that the cou­ple is dam­aged or broken.
Both amplify the shame already incurred by the cou­ple; as they likely feel dif­fer­ent from being dif­fer­ent than other "nor­mally repro­duc­ing" fam­ily and friends.
Both make the cou­ple more embar­rassed to talk about these strug­gles and asso­ci­ated emo­tions with their loved ones.
*****
It's a dif­fi­cult thing … want­ing to talk about a person's (or couple's) indi­vid­ual jour­ney through infer­til­ity. It's ten-​​times more dif­fi­cult, given the shame that's asso­ci­ated with infertility.
As the SELF arti­cle points out, it gets even more exhaust­ing when an infer­tile couple:
… become slaves of their monthly cycle; often unable to leave town even for a week­end get­away due to daily mon­i­tor­ing for hor­mone lev­els and egg counts. When month after month a cou­ple fails to get preg­nant, their lives stall and the ques­tion of whether or not their fam­ily will expand looms over deci­sions about the car they buy, the house they live in, the clothes they purchase.
And this, along with many other rea­sons, is why many infer­tile cou­ples choose to keep their "family-​​building" strug­gles a secret. Why they con­tinue with the façade that "family-​​building" dis­cus­sions should remain per­sonal, as soci­ety dictates.
*****
After years of keep­ing my strug­gle a secret … of bury­ing the emo­tions I've felt for so long … I believe that it is extremely impor­tant to talk about these issues. And I think it's impor­tant for an indi­vid­ual to find their own out­let or sup­port systems.
But first and fore­most, I think it's very impor­tant to keep an open com­mu­ni­ca­tion with your Spouse/​SO. Because if there is any­one else who should know what you're going through, it should be the per­son who is trav­el­ing down the infer­til­ity jour­ney with you.
For Hubby & I, it's a path that we took together, hand-​​in-​​hand. We made it a point to talk about each of our con­cerns openly and hon­estly (yes, even the scary parts) so that we knew where we both were at emo­tion­ally. And if one per­son was even slightly ahead of the other per­son, we'd make an effort to "wait" until both of us were both "on board" before mak­ing any major deci­sions. There was no push­ing or prod­ding; there was patience and under­stand­ing that both of us dealt with our issues in very unique manners.
If any­thing … that was my sav­ing grace in our jour­ney together. Hubby was my rock — my torch, so to speak, light­ing my way through the dark­ness. And I hope that he can say the same thing for me as well.
*****
As for other sup­port sys­tems out­side of the cou­ple … It's dif­fi­cult to find sup­port out there. I know; I've tried.
I've sought sup­port amongst my loved ones; my friends. But it's hon­estly hard for them to com­pletely under­stand what it's like, unless they're walk­ing in your shoes, your path.
But after years (and years) of deal­ing with Infer­til­ity, I've finally learned to turn this expe­ri­ence around by edu­cat­ing oth­ers about my jour­ney. And I did this by debunk­ing state­ments (like "just relax") and myths (like "just adopt and you'll get preg­nant") when­ever they would sur­face in those inevitable conversations.
This is because I believe that the more an Infer­tile per­son openly dis­cusses their expe­ri­ences, the more that the gen­eral pop­u­la­tion will under­stand and learn to empathize with the Infer­til­ity community.
I hope that this is a les­son that other Infer­tile cou­ples can learn from my own expe­ri­ence: Talk openly about it now, so that oth­ers can be more empa­thetic to the Infer­til­ity path.
*****
I've also tried to find sup­port in an Infer­til­ity Sup­port Group.
For me, that was not my cup of tea. My expe­ri­ence mim­ic­ked how another per­son in the SELF arti­cle so aptly stated, "Every­one gets up and tells their suc­cess sto­ries. Infer­til­ity treat­ment isn't always about success."
But … that may not be the case for every sup­port group. So please … you should still seek out an Infer­til­ity sup­port group before pass­ing any judg­ment. It just may just be the per­fect out­let for you.
*****
Finally, (and only after a major cat­a­strophic life event) I tried some indi­vid­ual coun­sel­ing. And that planted the seed that allowed me to talk about my Infer­til­ity and the emo­tions that came with those struggles.
My advice for an Infer­tile per­son try­ing to find the right ther­a­pist? Talk to your Infer­til­ity Spe­cial­ist and ask for a rec­om­men­da­tion. If you're not cur­rently see­ing a spe­cial­ist; call one in your area and ask. Chances are, the Front Desk staff or the RN in the office will be more than will­ing to give you a rec­om­men­da­tion. If not, check out RESOLVE's web­site for a list of pro­fes­sion­als in the area.
*****
There's one more out­let for sup­port that I want to point out. And this out­let, I must say, has been the most ther­a­peu­tic for me.
After much encour­age­ment from my ther­a­pist, I sought out sup­port from online com­mu­ni­ties. I started out by read­ing mes­sage boards and even­tu­ally sought out per­sonal blogs. From there, I stum­bled onto Mel's list and found an entire blo­gos­phere of peo­ple that I sud­denly felt I could relate to.
Sud­denly I wanted to share my story. I wanted oth­ers to know what *I* had gone through in my jour­ney. And, because there wasn't enough rep­re­sen­ta­tion from the Asian-​​American/​Filipino-​​American com­mu­nity, I wanted to let those Infer­tile individuals/​couples know that they weren't alone.
And, as the Asian-​​American cul­ture typ­i­cally simul­ta­ne­ously praises Moth­er­hood and yet frowns upon dis­cus­sions lead­ing up to Moth­er­hood, *I* wanted to have an out­let for where I can point other fam­ily mem­bers and friends to read when the inevitable, "What? You don't want kids?" ques­tions came up.
The sup­port I've received from the three years I've now been writ­ing on this blog have been over­whelm­ing. Not only have I met the most incred­i­ble peo­ple who get me (and under­stand my wacky sense of humor), but I've found sup­port in old friends and fam­ily that I might never have found any other way.
So yes … if any­thing, I encour­age writ­ing a blog as an out­let for your Infer­til­ity issues. I encour­age you to write about your strug­gles, your emo­tions … your biggest fears and worst night­mares and post it for the world to see. I encour­age you to be hon­est, as well.
But most impor­tantly, I encour­age adver­tis­ing it to your friends and fam­ily. Because we all know that keep­ing secrets from your loved ones (whether big or small) can ulti­mately be frus­trat­ing and tir­ing for all involved.
So why not let the secret out?
*****
I write this to let other Infer­tile cou­ples know that they do not have to suf­fer through these strug­gles alone.
I write this to encour­age other Infer­tiles to talk about their expe­ri­ences to others.
And I write this to ensure that those now-​​parents – those who suf­fered through Infer­til­ity on their way to par­ent­hood – con­tinue to share their strug­gles of Infer­til­ity … regard­less of how busy their lives may be, now that they have children.**
I write this to make sure that Infer­til­ity no longer remains a secret.
~~*~*~*~*~*~*~*~*~*~*~~
Related Posts:
A brief his­tory of Emily's Infer­til­ity Journey
When Emily decided enough was enough
Why Emily blogs for Infer­tile Asian/​Filipino-​​Americans
~~*~*~*~*~*~*~*~*~*~*~~
** This was the only beef I had about the SELF arti­cle. For all that it said about the impor­tance of "let­ting the secret out," the last sen­tence in the arti­cle is what soured me the most:
Work­ing behind the scenes [of sup­port­ing the Infer­til­ity com­mu­nity] is one option, but [Lisa] says, 'I'm sure my vol­un­teer efforts will be for schools or parks. Once I have twins, I'll have a lot less free time."